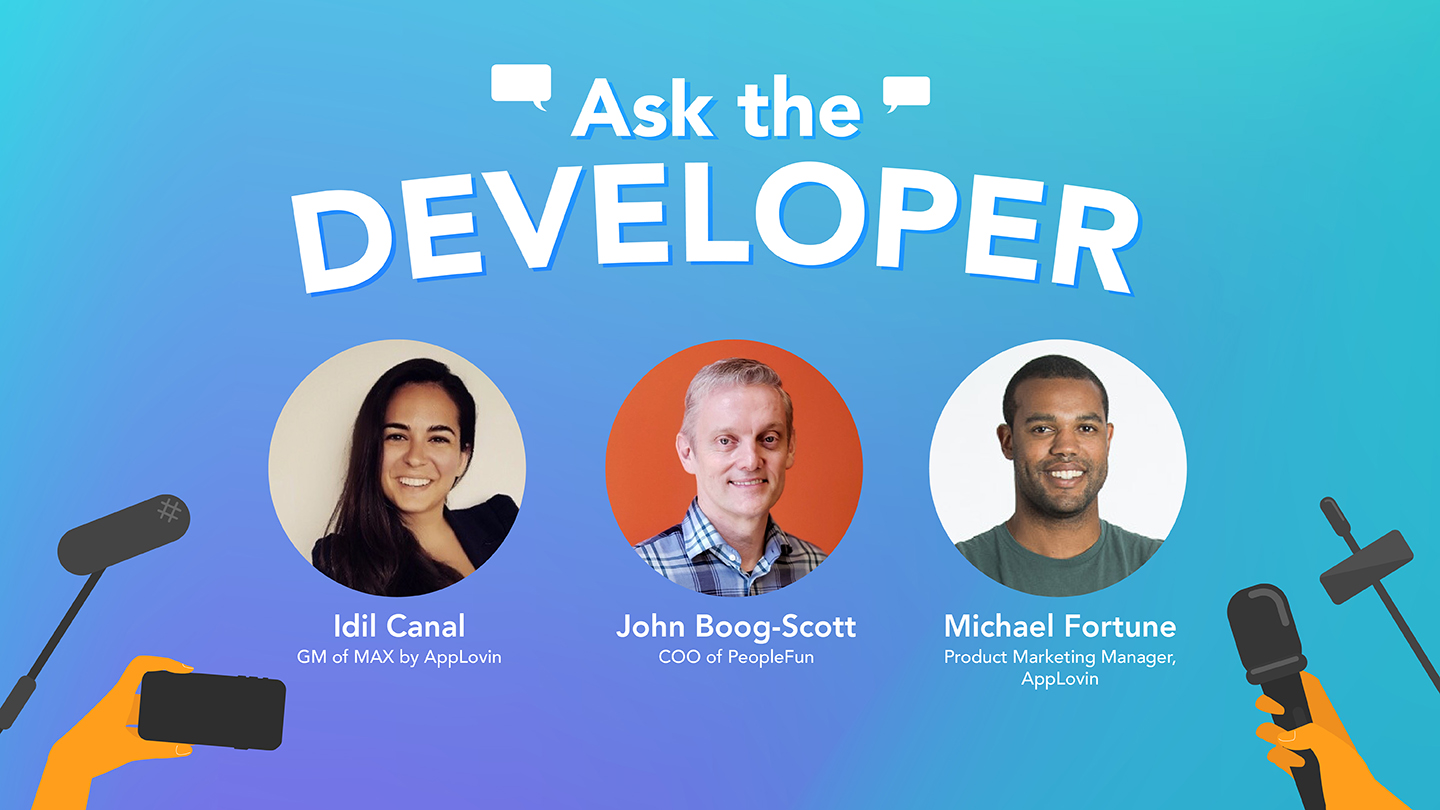 Developers
Ask The Developer Live: PeopleFun's Journey with In-app Bidding
AppLovin is excited to bring our popular blog series to life with Ask The Developer Live sessions being held on Zoom. I had the chance to host the first installment in this new series, which allows us to share stories and insight from some of our partners through a live conversation, and even more importantly — allows us to connect directly with other developers in the audience through a live Q&A. For our first session, we were joined by John Boog-Scott, Co-Founder and Chief Operating Officer (COO) of PeopleFun and Idil Canal, General Manager of MAX for a discussion on in-app bidding and the results PeopleFun has seen so far.
MAX by AppLovin, which offers full stack monetization based on in-app bidding, is the preferred solution for many of the world's top game developers, and in-app bidding is proven to be the most lucrative way to monetize your apps. Being a 20-year veteran of the gaming industry and COO of the world's most popular mobile word game, John was able to bring deep insight to the conversation around how PeopleFun has leveraged in-app bidding to not only drive revenue, but save valuable hours that the team was able to dedicate back to game development.
Here are some key takeaways from the conversation.
Why Make the Switch Now?
PeopleFun is the largest developer of mobile word games in the world with multiple top grossing-games and already had a very sophisticated waterfall setup from the start. Their business was growing. Line items were priced competitively. But still, it was hard to measure the impact waterfall changes or optimizations were having on revenue.
"What was really hard in legacy platforms was knowing the impact of changes," said John. "We could put in a new network and they would start taking their share of the revenue, but it was very difficult to know whether it was incremental, and how much it actually changed our top line revenue."
Once PeopleFun switched to in-app bidding with MAX the company saw immediate, sizable ARPDAU improvements across the board. Shortly after making the change, there was a huge lift in impressions per daily active user (DAU) — nearly a 50 percent boost in banner ads! PeopleFun also saw an ARPDAU lift of 25 to 30 percent across all of the games in their portfolio, and was able to diversify their demand portfolio to increase competition without adding any latency.
The additional benefit? The conversion to MAX gave PeopleFun the capacity to build a more complex waterfall with increased competition. As an early adopter of MAX, PeopleFun has seen the benefits of more in-app bidders coming into play, which has boosted revenue for both PeopleFun and the networks.
Currently PeopleFun sees roughly 40 percent of revenue coming from bidders, and with the addition of new bidders that will be live on MAX, anticipates that this number will increase to at least 60 percent in the next three months.
John noted that before making the switch to in-app bidding, most of their conversations with networks were around how the network could get to the top of their stack. With a large portfolio of games and several ad units to test, this process took up valuable time and had largely inconclusive results as there was no way to quantify the change.
Now, PeopleFun has the ability to run powerful A/B tests to test new bidders, new floor pricing strategies based on their custom geo groups, and (for traditional networks) brand new line items with a clear way to measure the overall ARPDAU gain in just a few clicks, and able to see the results in just a few hours. In fact, the feature itself was borne out of developer frustration of waiting countless hours to see results of changes made in the waterfall. Ultimately, MAX A/B tests empower developers to have a data-centric way to analyze what is working and how to make meaningful improvements.
"The powerful A/B testing tool in MAX helps developers drive their business forward by analyzing the incrementality of changes in key KPIs including req/DAU, impressions/DAU, and ARPDAU," said Idil.
Given the convenience of MAX, and the strong competition that already exists in their stack, PeopleFun is now only adding networks that are setup for bidding because this is the only way to reduce the operational hours needed to manage their stack and identify incrementality.
Cut the Latency
Much of the industry doesn't recognize that latency is a huge issue for developers using traditional mediation platforms, and it's costing them a lot of revenue.
"As a developer, we like not to have to think about any of that stuff," said John. "For most developers, the mediation is ideal if it just works. If it doesn't crash, if it works well, and if we just have to integrate with a few clicks then let it run."
John elaborated on this by noting that PeopleFun monitors impressions per DAU, and knows there are no latency issues if that number is stable and/or increasing. On the other hand, they can tell something is wrong if impressions per DAU decreases when new line items or a new network is added and they don't see a change in their overall revenue.
MAX solves this issue of latency with its new, advanced ad serving technology and also allows developers to quantify the impacts of latency introduced by their waterfall testing through its A/B testing tool. Previously, developers relied on their best guess to determine what in their mediation was causing latency. With these real time tools, they can test any of the more than 20 networks currently supported by MAX. They also have the ability to monitor new line item floors or geo-targeting changes to measure latency and its impact on their revenue with MAX's real-time reporting. While A/B testing has been part of the gaming world for core game development features for quite some time, the tests within MAX allow developers to find areas to further improve their monetization decisions by leveraging real-time data.
The AppLovin team is nothing if not thorough, and Idil was able to come into this conversation having looked at PeopleFun's setup, and shared that by switching to a hybrid monetization model with several key in-app bidders from leading networks including AppLovin. This allowed the company to reduce the number of line items they manage by half — this means they will remove more than 1000 line items from their stack overnight.
A hybrid monetization model with MAX drives higher impressions per DAU from reduced latency. Coupled with higher CPMs through fair competition and dense auctions, publishers are able to see a natural ARPDAU lift by switching to MAX. Post-launch, developers continue to find incremental lifts through MAX A/B tests and increase ARPDAU further.
This allows the developer to take advantage of in-app bidding, but doesn't force out networks that are still leveraging managed waterfalls. Peoplefun still spends most of their time managing and communicating with these traditional (non-bidding) network partners and foresees in-app bidders as the future because they don't require the regular monitoring.
Time is of the Essence
More often than not, most of us feel like we don't have enough time in our day. Developers can feel helpless when they have to manage complex waterfalls and hundreds if not thousands of line items. Soon enough, PeopleFun will have eight bidders instead of their current five, which is estimated to generate more than 60 percent of its revenue by in-app bidders. This will leave more time for the team to focus on other business goals. First up? Player experience.
"If it's a bad ad crashing your app, or if it's scammy ads there's a bad player experience generating player complaints," said John. "That's where we'll be spending more time, really trying to optimize player experience."
The conversation wrapped up with both John and Idil agreeing that the monetization world is heading toward a bidding-first world quickly, and it will be a reality for all developers in the near future. The moment that you take the middleman out by switching to in-app bidding with the right buyers, you're removing all the heavy lifting associated with line item management and are left with a fair, unbiased auction with full transparency. This means the whole ecosystem has more than enough supply, more than enough demand, which means publishers are able to make more money.
John also emphasized that, in the meantime, devs need to get on a hybrid monetization model. This will allow developers to take advantage of networks that are already in-app bidding, and it allows them to continue to work with networks that are still squarely focused on the traditional waterfall model — which gives developers the opportunity to start saving time, and earning more revenue NOW.
"I don't know why you would wait," said John. "You're missing out on revenue."
If you're ready to get approved for MAX, click here, and be sure to keep an eye on our events page to register for the next installment in our Ask The Dev Live series!