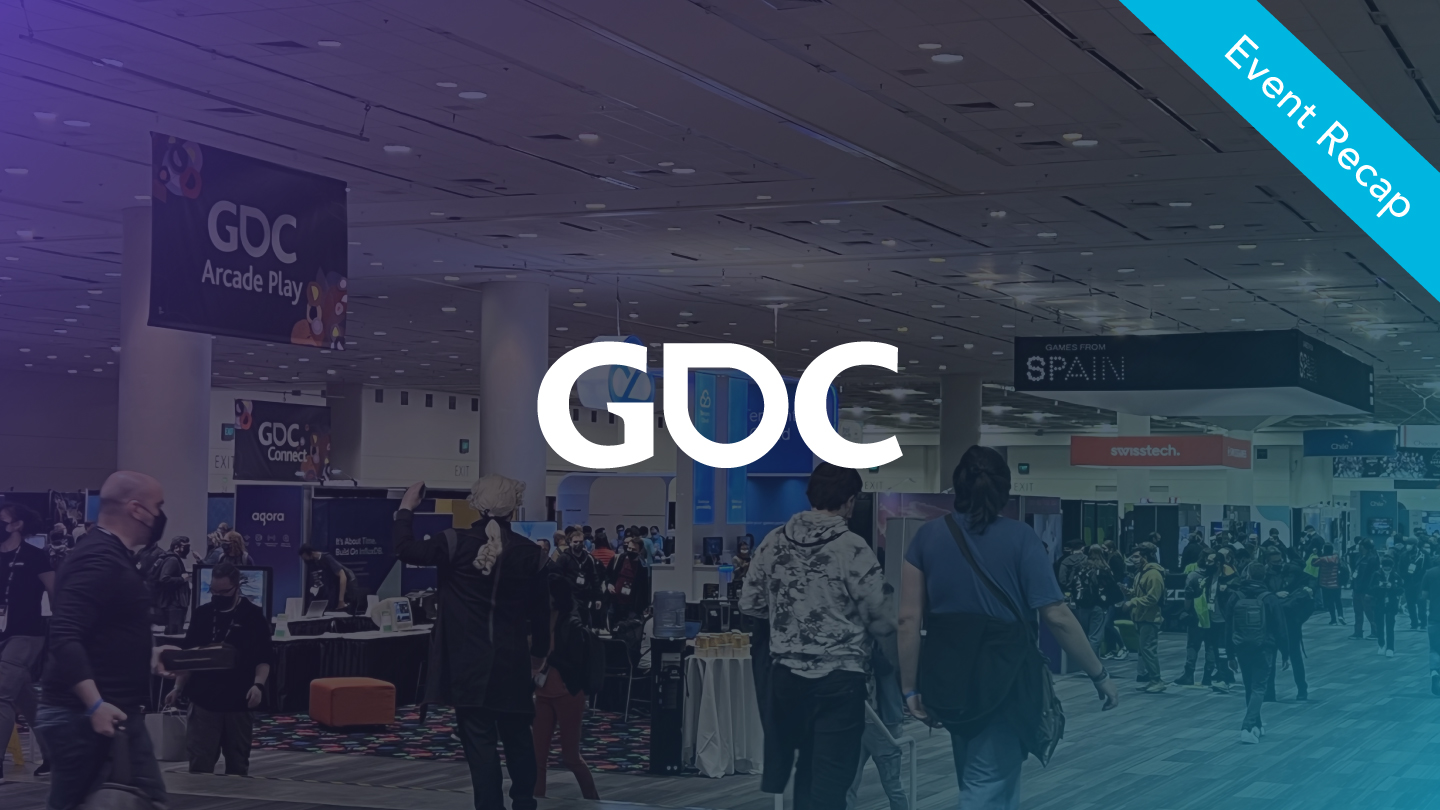 Events, Industry News
Mobile UX, Merge Games, and the Metaverse: AppLovin's Top Takeaways from GDC 2022 
Last month, AppLovin, alongside many of our industry peers, clients, and partner studios, attended the Game Developers Conference (GDC) at the Moscone Center in San Francisco. We were thrilled to return to in-person programming and hear directly from leaders within the games industry.
In addition to of the majorly successful happy hour in partnership with Adjust and Sensor Tower and presentations from leaders at two of our partner studios – Amy Choi, Director of Product at Lion Studios and Carol Miu, Chief Product and Analytics Officer at PeopleFun, we attended many informative sessions that explored the future of our industry in 2022 and beyond.
While it is impossible to list all of the great insights we heard at GDC, here are the top takeaways that stood out to us from this year's conference in case you missed it.
User experience remains a top priority
Many of the sessions we attended emphasized game developers' continued focus on the user experience. In his session, Greg Carroll, VP Global Revenue, Blizzard Media acknowledged the importance of excellent UX, saying that people are experiencing the games like in a first-person shooter game.
Self-proclaimed University of California, Berkeley "dropouts", Neil Tewari and James Jiao from Relentlo, also discussed monetization and the user experience, sharing their company's creative approach to seamless product placement within gaming.
Entering new markets requires a mindset shift
Amy Choi from AppLovin's partner studio, Lion Studios, filled the room for her session on how her team captured a new market in a matter of months.
From taking a page from hyper casual development to doubling down on a formula that works, Amy unveiled Lion Studios' success in the merge games market. Check out this article on PocketGamer.biz that sums up her session well.
All eyes on NFTs
It wouldn't be a GDC recap without mention of the strong focus many speakers took on the world of blockchain, NFTs, and the metaverse.
Jordan Blackman from Bright Black talked about how NFTs are turning player communities into stakeholders, therefore incentivizing them in different ways. In other words, Blackman explained, in the world of NFTs and web3, players win when the game as a whole wins because they want the project to succeed.
Speakers also discussed opportunities in the metaverse, including how it's creating new ways for people to customize their worlds and be expressive. Meta's Aigerim Shorman, General Manager, Avatars & Identity for example, explained how some individuals don't want to show up in the same way they do the physical world, and how the metaverse is becoming an outlet for them to be able to express themselves in different ways.
Designing for the mobile games market
Mobile gaming and building strong player experiences in gaming apps was another major topic at GDC 2022 — unsurprising given that people spend an average of 4.8 hours — or one-third of daily waking hours — on mobile devices per day — and that mobile ad spend saw 23% growth year-over-year to $295 billion in 2021.
In her session, Carol Miu, Chief Product and Analytics Officer at AppLovin's partner studio PeopleFun, talked about her studio's top performing mobile gaming features – including the Wordscapes Star Rush Tournament and Stickers Events across the PeopleFun portfolio – and the organizational strategy and team culture that drive excellent mobile player experience.
Meta's Amit Bhojwani, Director, Global Partner Development also discussed mobile's role in the gaming ecosystem, noting that "mobile is still here" and is always going to have a place in the industry. Amit noted, it is still the most accessible device we have and "a mobile device is always with you".
Thank you, GDC, for a welcomed return to "normalcy" and giving us the opportunity to connect with our industry after so many months apart. We're excited to see what the year has in store for the mobile games community.