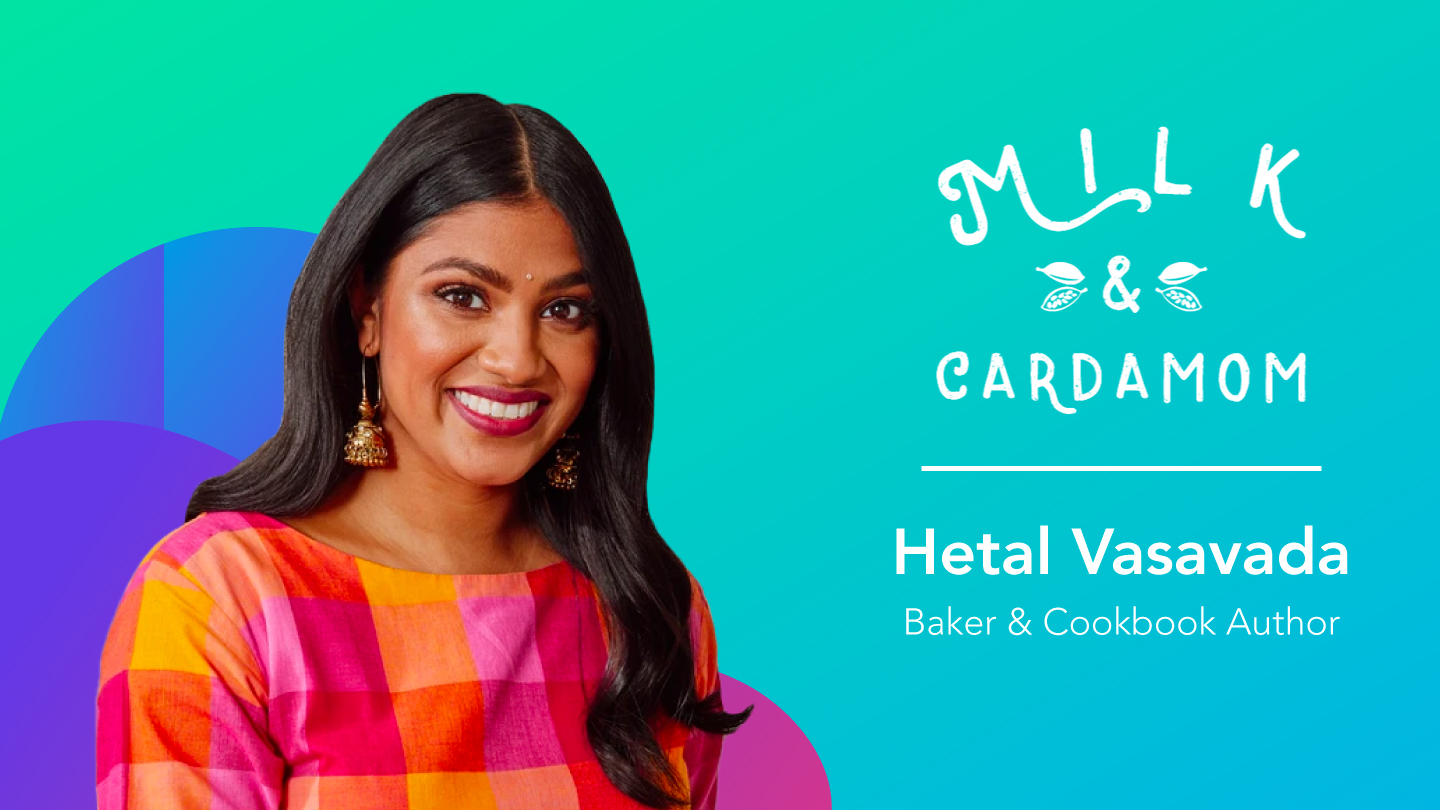 Company Culture
Growing Your Brand from Food Recipe Writer to Instagram Influencer
In our most recent FemLovin event, we were delighted to welcome San Francisco-based cookbook author, food photographer, and blogger, Hetal Vasavada. Hetal is also a former reality star who made it to the top six contestants on Gordon Ramsey's reality show "Master Chef." 
She now owns an online bakery called Milk and Cardamom and brings her delectable treats to patrons who are lucky enough to catch any of her pop-up stores across the nation. 
In this FemLovin talk, Hetal opened up about what it was like to work her way up in an industry that is mostly male-dominated. She also talked about getting over her "imposter syndrome" and how she learned to be more comfortable as a consultant running her own business and brand. 
Finding her path to food
Like many college graduates, Hetal was unsure of what she wanted to do and thought about applying to medical school, but decided against it. "I saw my med school friends and how unhappy they were," she explained. After giving it some thought, Hetal knew she wanted to do something in the food industry—she grew up in a large, joint family of 14 and learned many of her skills in the kitchen while growing up. 
Going from reality show contestant to entering the food industry as a career
Instead of going to culinary school, she went the unconventional route and landed on season six of "Master Chef." She recalled the intensity of being on a reality show—the constant filming and the highly charged emotions from the eliminations and fellow contestants. 
"It was mentally exhausting but I did fairly well, making it to the top six."
It was during this time that Hetal noticed home delivery meal kits started becoming very popular, so she decided to work behind the scenes and write recipes for those types of businesses. Getting there wasn't easy. 
"When I interviewed, they were 95 percent of the time, a male chef that worked under Thomas Keller or Wolfgang Puck and worked as a culinary expert, building out their team. Because I didn't have a degree, they didn't hire me. Mostly, the teams were all male. Instead, I got hired as a consultant, because I picked up food photography as a skill. I was able to make my recipe and photograph them."
Overcoming insecurities
Despite "Master Chef" providing her with some exposure and recognition, she still had difficulties overcoming the negative self-talk about people buying food that she made. 
"To be able to sell your own food or have a restaurant, you have to have an ego and self-confidence. I thought, no one would buy a cake from me for $17 or a bag of cookies for $10. But then I'd see people selling things for way more without any problem. It took me a while to get there." 
Hetal attributes her growth and confidence to becoming a mom and support from her husband, who encouraged her to ask for more and know what she's worth. 
A turning point
Unbeknownst to her, the pandemic and subsequent lockdowns helped increase Hetal's social media following tremendously. 
"I would get on my Instagram Live and ask people to bake with me. I did all of the baking that was trending, including making sourdough bread, that pretty focaccia bread. My Instagram went from 20,000 followers to 75,000 in just a few months!"
As her following grew, so did her status as a food influencer. Her growing fanbase and expanding business meant appearing in the New York Times, Bon Appetit, Food & Wine Magazine, and The Kitchn.
What's next?
Today Hetal focuses on running her bakery. "I have popups and sell cakes every other week. I have a limited amount so once they're gone, they're gone!"
Hetal is excited to hit the road in the upcoming months with her sweet treats and pastries where she will be hosting pop-ups for Milk and Cardamom. 
Find Hetal's delicious baked goods online or follow her on Instagram.