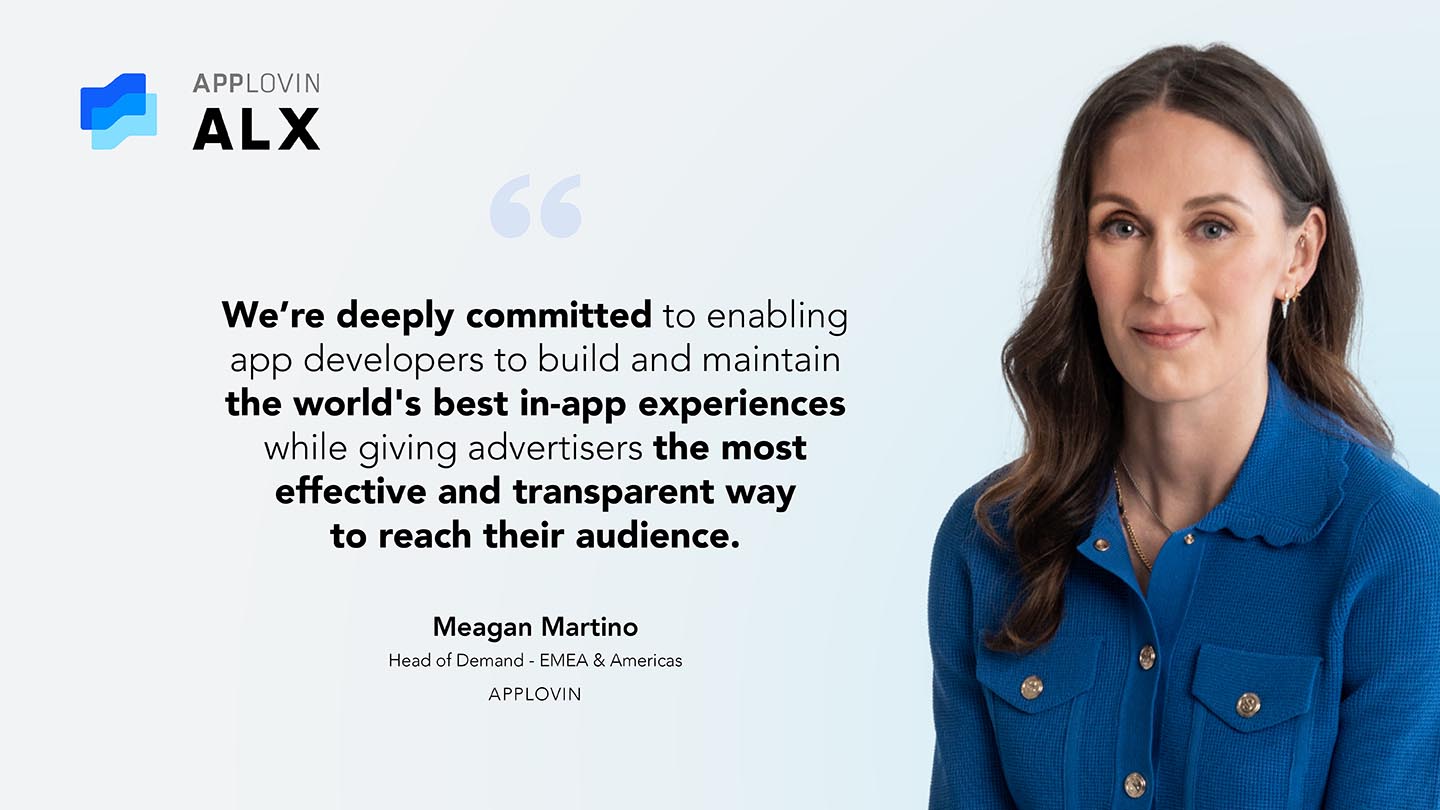 Advertisers, Developers
How ALX Can Help Agencies Increase Reach, Scale, & Growth — Part 1  
Consumers spend an average of up to 4.8 hours — one-third of daily waking hours — on their devices, and 90% of that is spent in-app, eclipsing even TV viewing. New app downloads continue increasing year-over-year, and consumer spending in apps reached $170 billion in 2021. To reach potential customers on their mobile devices, you need to be where they are: in their apps. That's where ALX comes in.
In this Q&A series, Meagan Martino, Head of Demand for the Applovin Exchange (ALX) across EMEA & Americas, and Genelle Hung, Head of Demand for ALX in the APAC region, talk about how agencies can use ALX to power a mobile-first strategy to reach as many people as possible, spend efficiently, and be able to measure the results of their spending.
Meagan and Genelle joined AppLovin as part of the MoPub acquisition, where they worked with DSPs, agencies, and advertisers to help them understand how to navigate and capitalize on the value of the mobile ecosystem.
In Part 1 of this series, Meagan and Genelle describe ALX, why it's the best option for agencies, and the advantages of direct access and how it works.
First, can you briefly describe what the AppLovin Exchange — or ALX — is and how it is different from other exchanges?
Meagan: ALX is the largest independent mobile-first exchange. Powered by our mediation product, MAX, we represent 100% SDK-direct, fully mediated supply. We are, by far, the leaders in the mobile mediation space. In addition, ALX does not plug into other meditation stacks — so when you buy on ALX you can be assured of two things:
No one has higher priority access to supply than you
No one is getting a better price to access that supply than you
In addition, we've long since been a leader in the mobile performance space ensuring all our app publishers have a way to monetize their inventory and a winning strategy to help their users continue to grow and engage in their apps.
AppLovin is mobile first. We're deeply committed to enabling app developers to build and maintain the world's best in-app experiences while giving advertisers the most effective and transparent way to reach their audiences.
Genelle: If you think about the evolution of mobile in-app and what that means for consumers, the biggest resistance perhaps five or six years ago was the lack of measurability — viewability, brand safety, fraud, and, for some, clicks, completed views, and reach. Advancements in programmatic, addressability, and the sophistication of DMPs (Data Management Platforms) have changed all of that. Today, you can measure and track your users regardless of channel, which makes mobile in-app as an extension of TV and desktop buying extremely powerful and valuable for brands to extend their reach.
Mobile in-app also offers an inherently brand-safe environment — if you're playing a game, checking the weather, or chatting with friends, there is no chance of random content such as news about a natural disaster or UGC (User-Generated Content) popping up and negatively impacting brand equity. In-app video ads are also inherently viewable, meaning they take over the full screen and offer an immersive experience that's akin to a personal billboard.
Why is ALX the best option for an agency?
Meagan: We know it's challenging for agencies to navigate an ever-evolving digital media landscape. Whether it's changes in privacy, cookie deprecation, or brand suitability concerns, agencies need to diversify their media strategies to ensure their campaigns continually scale against the customers that matter most — and reach them in impactful and measurable ways.
Mobile has long since been an underused channel for brands and upper funnel campaign tactics, largely because the mobile ecosystem has been fragmented with disjointed tech and non-transparent supply access.
Yet mobile consumption has continued to climb year-over-year with consumers spending more time on their devices — 4.8 hours — than streaming or watching TV. Agencies need a clear path to reaching consumers where they spend most of their time — and trust that they are doing so in a transparent and measurable way.
ALX helps simplify the task of finding premium mobile inventory by consolidating the mediation landscape and making all of this inventory available through your DSP's integration on our exchange. This allows agencies to tap into 60-70% of the adult population in the US by including mobile access through ALX. With the MoPub acquisition, AppLovin grew DAU from 300 million to 570 million within a few months — nearly doubling the size of our addressable audience
Why is Direct Access such a big advantage? How does it work?
Meagan: It's not just that ALX is 100% direct, but that we are the mediation partner for 100% of that direct supply. This gives programmatic buyers on our exchange an advantage in a couple of different ways:
Supply efficiency — Every request you get through ALX represents a unique impression opportunity for that user. Traditional networks with a direct SDK are set up as a demand source in the publisher's waterfall where you will see the same request for this user flow through several different priorities based on how that network is integrated. This means that buyers who access supply through these partners are seeing duplicated requests for the same impression.
Price efficiency — Direct access means there are no intermediary or additional tech taxes piled onto your bids. We run a transparent auction and the only fees associated with accessing our supply is the publisher revenue share. No other mobile exchange can provide the same level of scale and price efficiency that ALX can provide against the supply we mediate.
Priority access — Ad networks are only as good as their waterfall access. As the meditation partner, we run a unified auction that ensures every buyer through ALX is competing in every impression opportunity and has the ability to set up PMP (Private Marketplace) deals.
This all translates into the strongest and most scalable channel to execute your mobile strategy.
End of Part 1 — head over to Part 2, where we'll discuss measuring campaign effectiveness, ad formats supported by ALX, ALX inventory, and how ALX combats fraud.