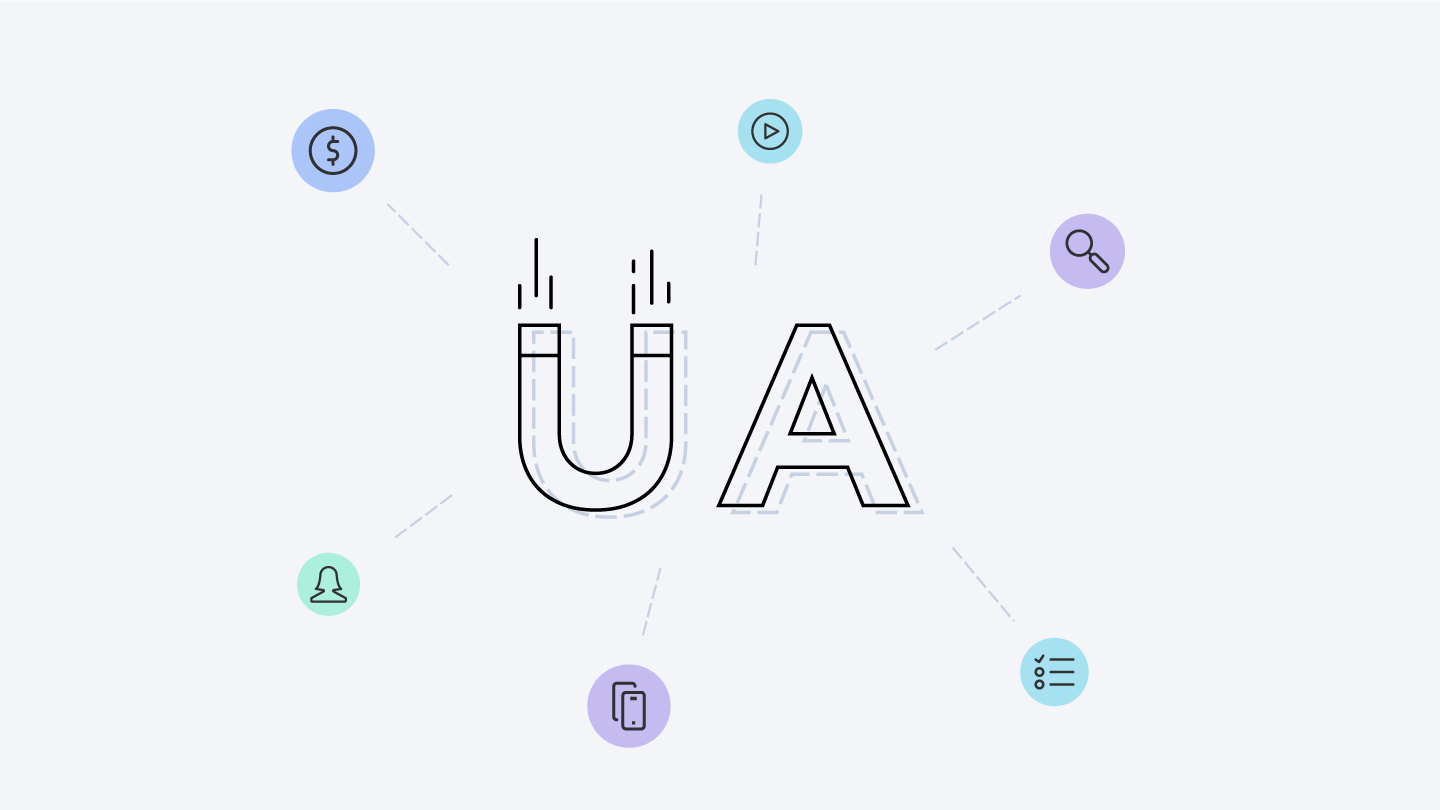 Advertisers, Developers
Best Practices for Mobile User Acquisition
While there are many approaches to getting new users to download your app and build an audience, there's no surefire, one-size-fits-all approach — so we've collected some strategies for you to help you get started with mobile user acquisition.
Why mobile user acquisition is important
Finding new users is critical to growth. And while revenue plays an important part in the goals you want to achieve with these new users, you still need to consider how to engage and retain your users once you've acquired them. Building a great user experience, creating trust, and understanding the users' needs all play an important role in customer loyalty and business success.
But with millions of apps across iOS and Android, how do you get yours to stand out, expand your audiences, and maximize your ROI?
Understand your audience
Define who your target audience is so you can focus your efforts on the right group — fitness lovers, foodies, gamers, etc. That way, you can focus on that group and optimize your marketing budget as well.
Consider using previous campaigns that may have targeted a similar group of people. And use a small portion of your budget to test your audience before launching the entire campaign.
A/B test frequently
Testing is vital to understanding what is working, so A/B test your marketing campaigns often. It's an essential part of UA and provides insight into which part of your campaigns need to be optimized.
Form a hypothesis to test for before testing. For example, perhaps you want to see if your app resonates more with a specific demographic, such as males vs. females in a certain age group.

Segment users into two groups, change one variable, and then set a timeframe for how long you want to test.

When analyzing results, pay attention to how much of a difference there is in the conversion rate. Are people clicking more on a certain type of ad than another?
Learn more: How to Accelerate Growth Through A/B testing
Re-target and re-engage
While acquiring new users is important for growth, so is re-engaging the audience who may have briefly engaged with your app but never returned. After all, you probably spent money acquiring these users, so use consistent retargeting to:
Improve engagement, which may help with your down-funnel conversions such as in-app purchases or signups

Increase user retention and loyalty
Segment a specific group by behavior, such as those who downloaded your app but only engaged with it once, for example. You could retarget by serving a personalized ad to encourage users to re-install or make a purchase.
Create high-quality, engaging ads
Ads aren't just for monetization — they're also a user acquisition tool. If your app relies heavily on ads for user acquisition, be sure to pick the right formats, A/B test them relentlessly, and fine-tune for ad frequency, localization, and more.
Rewarded video is a highly effective format that offers a reward (such as game currency in a game, for example) for viewing the ad. They're also

two times more effective

than

interstitial

videos.

Playable ads are an excellent user acquisition tool for games, especially hyper-casual games, because they let the user try the game before installing it.

Video ads are also an effective way to passively let prospective users know what your core app or mechanics are like before they download.
Best practices for app store optimization (ASO)
App Store Optimization (ASO) is a great way to get discovered by users in the app stores. Similar to the way search engine optimization (SEO) works for websites, ASO focuses on certain factors such as hitting the proper keywords, keyword competition, and creating a description that entices potential users.
Here are some best practices to follow in order to improve your rankings and potentially receive more downloads:
Use keywords that don't have high competition so you can rank more easily

Be descriptive and specific with your titles to accurately explain what your app does

Choose the appropriate category for your app

Use high-quality screenshots

Add a preview to your app
Learn more by reading our article: How to write an effective app store description.
Cross-promote through your portfolio
If you've built a portfolio that can be used to cross-promote, it can be an efficient user acquisition machine, as long as you continue feeding the market quality, new products.
There are also plenty of opportunities to cross-promote other apps from your portfolio at specific moments when users are more engaged and likely to download other apps—that's an advantage every user acquisition pro must use.
Know your KPIs
Track your goals, engagement, and stay on track with your spending using key performance indicators (KPIs). Here are a few common ones to consider:
Customer acquisition cost (CAC)

— CAC refers to the total cost of acquiring a customer from getting their attention to getting them to buy. Once you have this number, identify which avenues have the lowest acquisition costs overall and concentrate your efforts there.

Cost per acquisition (CPA)

— This is the cost to get a single user to download and install your app.

Lifetime Value (LTV)

— LTV is a prediction of the net profit of an ongoing relationship between users and an app. It is calculated by finding out the average churn and average spend of a user over the course of a specific period to predict their overall spend in an app.
Test, analyze, and grow
A successful mobile user acquisition strategy involves lots of testing and using that data to define your target audience, using the right acquisition channels, and staying on track with your budget.
AppLovin's AppDiscovery uses machine learning technology to help you execute smart UA campaigns. Mobile businesses rely on finding the right user, at the right price, at the right time. AppDiscovery automatically adjusts campaign details to ensure the highest likelihood of engaging and retaining your ideal audience.
Start launching smart user acquisition campaigns today with AppDiscovery.