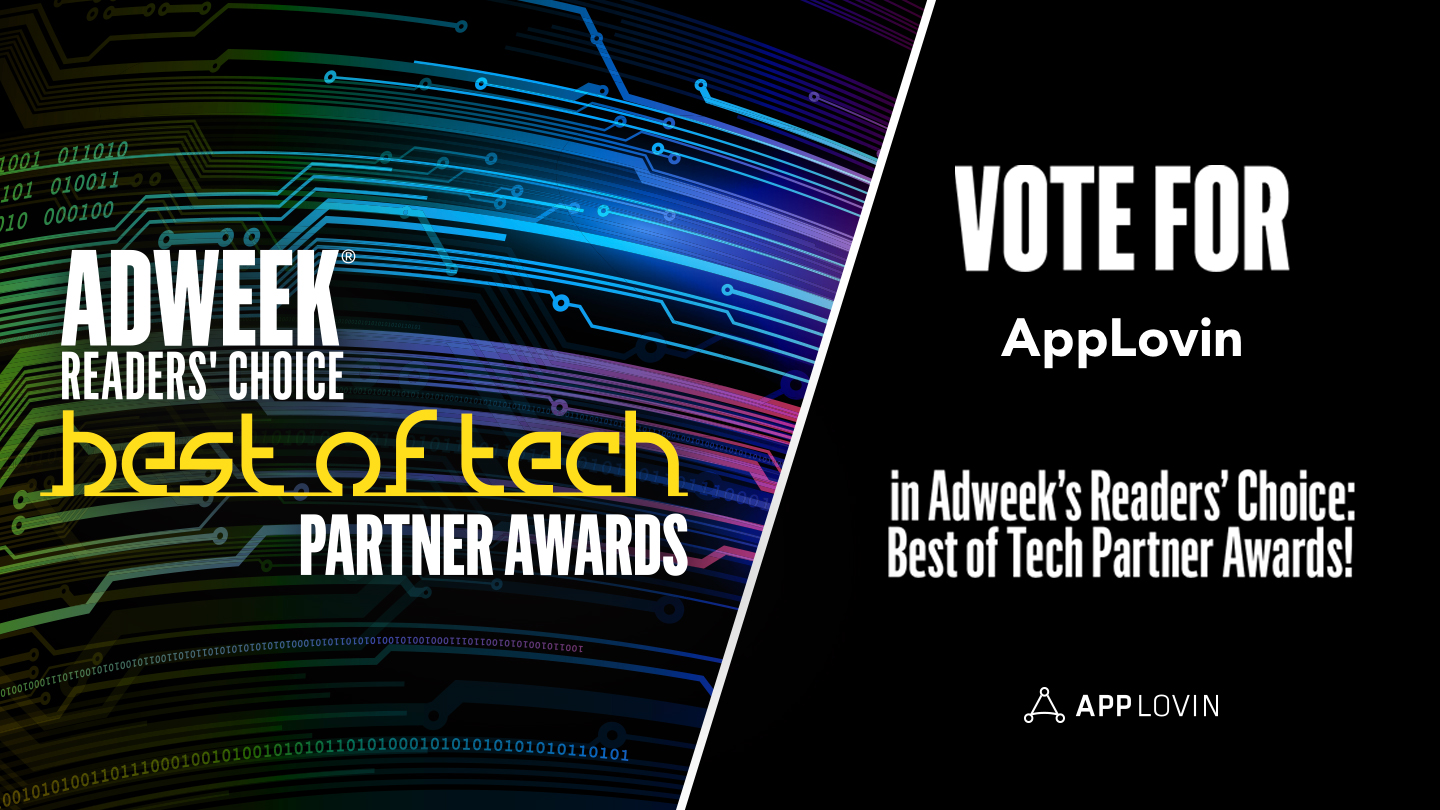 Advertisers, Developers, Industry News
AdWeek Nominated AppLovin for an Award, Here's Why
Recently, AdWeek has nominated AppLovin for its Readers' Choice: Best of Tech Awards in the category of "Best Ad Network: Mobile." We are extremely proud and humbled to be considered for this honor. Our ability to take home this award lies in your hands. As such, we thought we'd remind you why AppLovin has been considered for this honor before asking you to vote for us.
Growth powered by unprecedented supply scale
AppLovin provides access to one of the largest mobile supply sources, with 140,000 apps across 1.8 billion global devices engaging with our ads. This equates to an incredibly impressive reach for advertising partners. This culminates in access to high-quality supply for advertisers so that they can efficiently scale their campaigns to reach new heights of growth and performance. This also offers publishers the same massive reach to perform their own user acquisition campaigns through re-investing monetization gains, creating a 360° growth opportunity.
A fair and unbiased auction for all
AppLovin's mediation platform, MAX, pioneered in-app bidding and hosts the largest network of buyers with the most competitive and diverse auctions for premium mobile inventory. Publishers get access to over 25 supported SDK networks—including 20 in-app bidders and 100+ DSPs— through the AppLovin Exchange, the world's largest in-app exchange. They also have the flexibility to work with direct advertisers or any network they desire through a custom integration. MAX connects buyers and publishers in a fair and unbiased auction that creates a mutually beneficial marketplace, helping find the best app inventory for advertisers and the highest CPMs for publishers.
Brand safety and fraud prevention tools provide unmatched protection
AppLovin is a proud member of The HUMAN Collective, leading the charge against fraudulent activity in apps and ensuring traffic quality on the AppLovin platform for advertisers. On the publisher side, solutions like Ad Review as part of our MAX platform and its industry-first User Journey feature, finding and removing problematic ads has never been easier, protecting user experience and helping to ensure revenue wins for advertisers and publishers.
Why we've earned your vote
Our mission is to give publishers, advertisers, and partners utilizing our platform many ways to grow and accelerate their businesses. All of our solutions represent a suite of tools and resources that, when used as part of a holistic strategy, create an optimized and scalable success pathway for apps and the ads that run within them. We know we're making a difference in the mobile landscape in a big way, and we're beyond excited to bring our ad network to you.