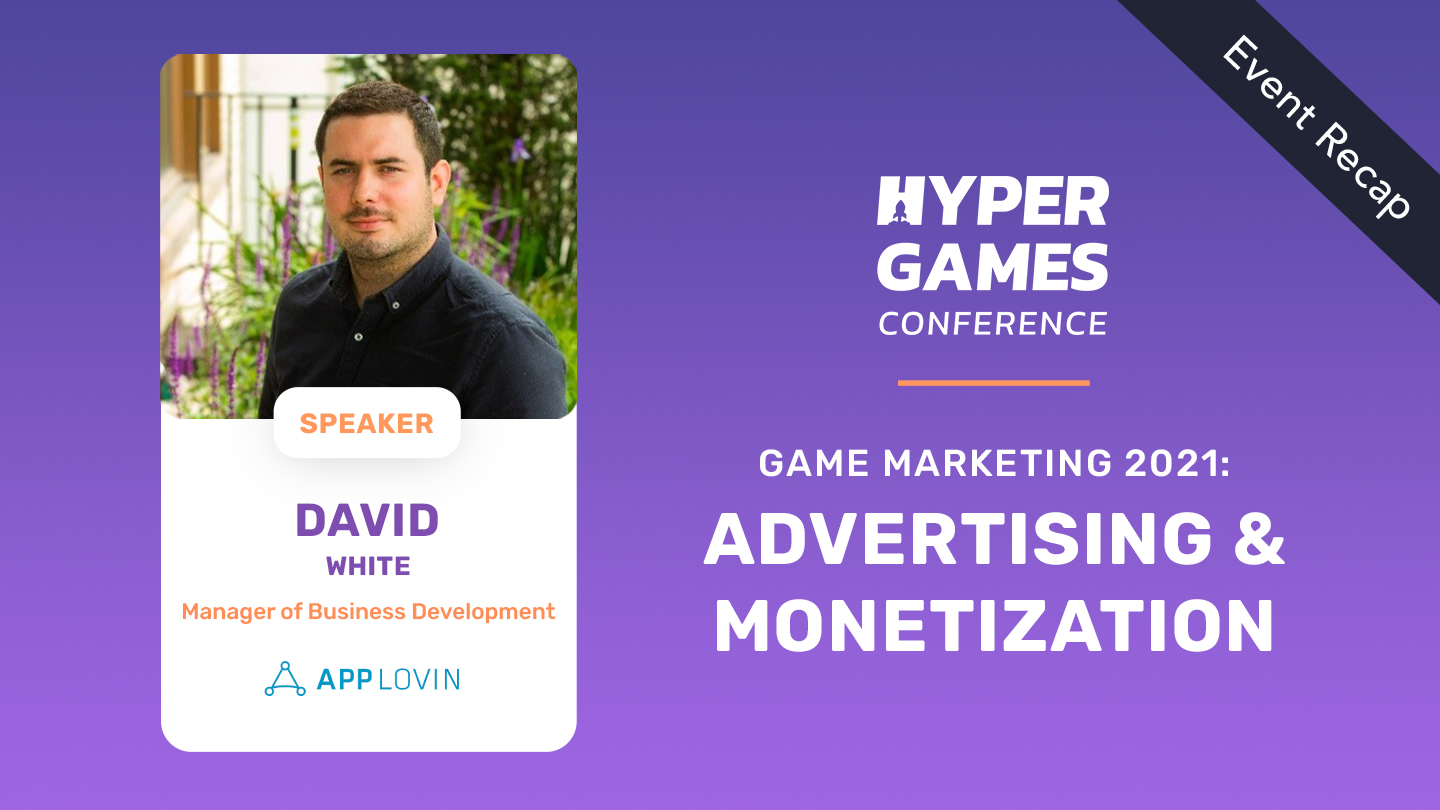 Developers, Events
AppLovin's David White Talks Game Marketing, Advertising, and Monetization at Hyper Games Conference #3
David White, AppLovin's Dublin-based manager of business development, recently participated in a virtual panel discussion at Hyper Games Conference #3 to talk about some common challenges developers face in mobile game advertising and monetization. The panel was moderated by Wilfrid Obeng, Co-Founder and CTO at AudioMob. Panelists included Zar Serebriannikov, CEO at Espresso Publishing; Chris Wright, CTO at AdInMo; and Maor Wurembrand, senior publisher manager at Anzu.io.
The Hyper Games Conference (HGC) is an enormous conference devoted to the development, promotion, and growth of the hyper casual games industry. The event attracts participants from over 90 countries. Here are some highlights from David's session, Game Marketing 2021: Advertising & Monetization.
Why should brands advertise in video games?
To grow and build loyalty, brands need to be where users are. Video games have become an incredibly popular content channel, and the hyper casual genre reaches the widest audience. Advertisers can target their campaign toward different age groups, genders, geographies, and more, and they have the ability to deliver their brand message in a way they can't with other media.
"We have seen an increase in spend on non-gaming apps at AppLovin as we are offering capabilities to optimize further down the install," David White said. "Subscription is one of the conversion events toward which partners on those verticals have been optimizing."
How can game developers ensure that ads don't impact user retention?
When relevant to the user and well-integrated into gameplay, ads can present a positive experience. The panelists agreed that rewarded ads are a great way to keep an audience engaged because users get something back in exchange for the time they spend watching or interacting with an ad. This format has the flexibility to combine with both monetization models that dominate the mobile gaming market: In-App Advertising (IAA) and In-App Purchases (IAP).
For developers who are concerned with compromising their user experience by monetizing with ads, testing is highly recommended. A/B testing will likely disprove the hypothesis that ads interrupt the gaming experience. David suggested testing a new placement on a small subset of users to minimize any risk of loss. (AppLovin partners are historically keen on running A/B tests and we've seen some great results.)
How can game developers leverage user-level ad data and A/B testing to understand true lifetime value (LTV)?
User-level data really helps game developers understand the value of users, whether it is per ad network or per ad campaign. This ultimately helps them make better decisions when it comes to bidding. With a comprehensive understanding of audience behavior, developers can adjust monetization strategies depending on the user type.
"A/B testing is crucial for developers and studios to optimize their ad campaigns to the highest ARPDAU and identify the high-value users to target in user acquisition campaigns," offers David. "An optimized mediation setup will yield maximum revenue. If your game relies mostly on ads for monetization, you need to ensure a competitive waterfall setup with a mix of bidders and mediated ad networks." Additionally, if you expand into further geos, it's recommended that you A/B test continuously since the setup will have to be adapted as the app scales.
What are your thoughts on hybrid monetization models (IAA + IAP)?
As mentioned earlier, the two most popular monetization models in the space are IAA and IAP. The panelists agreed that hyper casual games tend to favor ads more than other free-to-play games, and all the panelists had opinions on whether that was the best option. Having a mixture of monetization strategies throughout the game experience can work well. Everything from rewarded videos to interstitial ads can be applied to drive revenue. Ultimately, Chris Wright of AdInMo said, you should aim for a unified experience that feels like all the elements fit well together.
As a publisher, Zar Serebriannikov of Espresso Publishing sees the benefit of having hybrid monetization models to increase competition in the hyper casual market. David added that he believes hyper casual game developers may be open to working toward IAP because offering items for purchase within games may help engagement with users in a variety of situations.
"We see more and more hyper casual developers adding IAP," he said. "I've seen cases where IAP represented up to 20% of the overall revenue on some apps."
Maor Wurembrand of Anzu.io added that hyper casual game developers appear to be working toward casual game development today. This is because casual games offer more opportunities when it comes to IAP. That said, hybrid models are likely to become even more popular, especially within the hyper casual world.
What overall strategies are there to increase ARPDAU/eCPM in bidding and non-bidding networks?
You need to have the most competitive monetization stack setup by having relevant bidders. The good thing about bidders is they have a view on every single request and they can decide whether or not to bid on any particular impression. This is really driving eCPMs and improving teamwork efficiency. What we see at AppLovin, David said, is that 50-60% of the revenue is driven by bidders now.
Zar added that bidding now dominates the market as it enables developers to increase revenue with a more automated workflow and drive long-term business growth.
There was a lot of great information in this session, and this is just a snapshot. Fortunately, you can catch it all in the session recording, which includes some great examples and metrics to help you optimize your monetization strategy more efficiently.
If you want to take a closer look at how in-app bidding can increase monetization, don't miss our recent article, A Closer Look at How In-App Bidding Can Increase Monetization With AppLovin's Idil Canal.