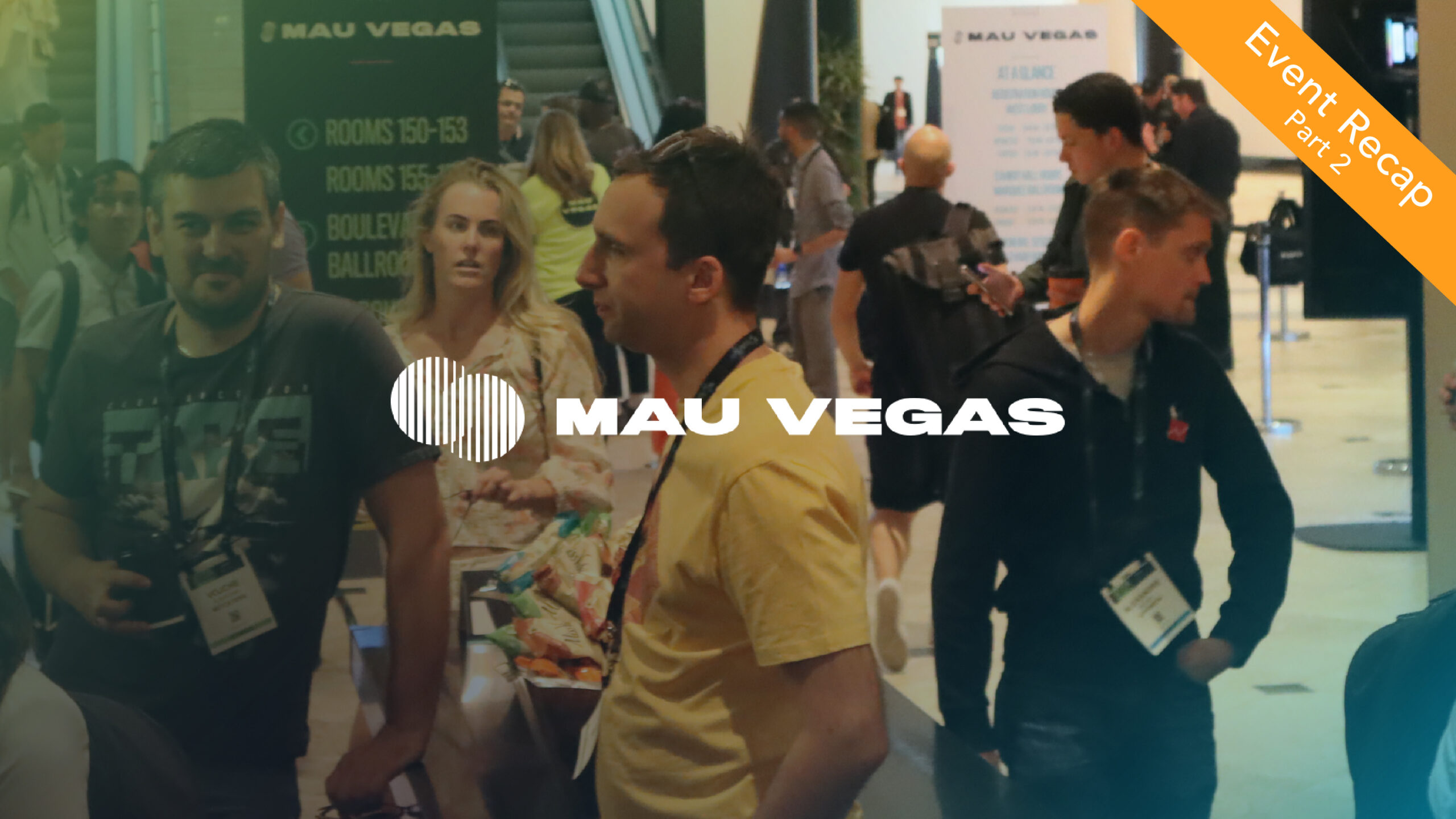 Advertisers, Developers, Events
AppLovin's Favorite MAU Vegas 2023 Moments, Part II
Hello and welcome to our second and final installment of AppLovin's Favorite MAU moments! (See part 1 HERE.) MAU Vegas 2023 proved to be an event so nice, we had to write about it twice. So much to capture and cover, so many valuable learnings to share with you.
In our previous blog, we talked about AppLovin's opening CTV: Unplugged party, becoming a Marketing Economist with Eric Seufert, the modern growth marketing ecosystem with Adjust and Jam City, and navigating the new CTV landscape with SmartNews. In part 2, we're talking through AI in marketing, exploring general acquisition channels for non-gaming apps, and a smashing (or, rather…splashing) party to cap off the last full day of MAU Vegas 2023.
Let's DIVE in! (Wow, another water pun. Unbelievable.)
*The panel highlights in this blog covering individuals or organizations outside of AppLovin are for informational purposes only. They do not represent the views, business goals, or strategies of AppLovin.
1. Game-Changing AI for Marketers and Agencies
One of the standout panels from the event was titled "How AI is Changing the Game for Marketers and Agencies." This session brought together two industry powerhouses: Joe van Huysen, VP, Managing Director, Social & CRO at BMG360, and Vivek Girotra, VP of Marketing at Times Internet.
It was a lively and informative session about how AI is evolving everything around marketing, some of the ethical implications, and how to prepare for the next evolution of AI for driving business. Here are some of the key moments from the discussion:
Content Creation and Automation
Van Huysen and Girotra opened their discussion by addressing AI's transformative role in creating new marketing content. They noted the rapid adoption of AI tools for writing tasks ranging from transcription to ad copywriting. Furthermore, both panelists agreed that AI's potential extends to creative production, making high-quality content more widely accessible. To quote Girotra directly, "When you are in the business of making content and the marginal cost of content goes to zero, it makes you sit up and take notice."
The Evolving Role of Human Capital in Marketing
The conversation turned toward the implications of AI on the workforce. Both van Huysen and Girotra suggested that while AI may automate routine tasks, it will simultaneously intensify competition, compelling marketers to innovate continually and specialize.
Joe maintained digital marketers' agility and evolutionary nature, stating, "I stay optimistic about it. Because we, as digital marketers especially, are used to automation gradually happening over time, right? You think back five to six years….I'm a media buyer at heart. I was impacted when things like campaign budget optimization came out on Facebook. It took away our ability to manually allocate budget between audiences or the manual bidding between placements. So that came away slowly. Now, targeting is much more automated as well; you can't get as in-depth as Eric [Seufert] was talking about [during his session]. So all those things are slowly being taken away from us as humans, yet we've found ways to be valuable and provide value to our employers and clients by adjusting to that, so that leaves me very optimistic about that."
Vivek responded, "I think what this does in the system, to marketing talent as a whole, is that it lowers the floor but raises the ceiling. And what I mean by that is, it's gonna get so much easier to complete all the basic tasks in marketing, the barriers to entry for marketing roles is gonna get lowered. But at the same time, if you want to be in the top 10 to 20% of marketers, it will get that much tougher because of the competition and residual knowledge prevalent in the system."
Ethical Questions Around AI
AI's power has its challenges, as the panelists highlighted. They raised important ethical questions surrounding deepfakes, intellectual property violations, and unauthorized knowledge extraction. This ethical dilemma, they suggested, warrants significant regulatory attention.
Girotra stated, "…When everybody's knowledge can be digested into a training model without their consent and packaged into a neat little API for anybody to use, all bets are off." Van Huysen agreed, saying, "Yeah, I definitely personally steer on the side of conservatism here. And it's obviously a little scary, but I hope there's more regulations put in place." He discussed how Silicon Valley could change perceptions and win hearts if the tech industry handles it right. He told Vivek, "We're known for data privacy being an issue, and, you know, asking for forgiveness after the fact instead of permission beforehand. So it's really an opportunity to change that narrative."
AI's Future in Marketing
Despite these hurdles, van Huysen and Girotra maintained an optimistic outlook. They expect AI to drive leaner and more focused marketing teams, potentially catalyzing the creation of new businesses and marketing opportunities. Ultimately, they expressed confidence in the marketing industry's ability to navigate the challenges and opportunities of an AI-driven future.
2. Exploring general acquisition channels to optimize for success with ReadySet
In his insightful panel discussion, "The State of Every Acquisition Channel for Non-gaming Apps: How to Optimize, Integrate and Track for Success," John Gargiulo from ReadySet takes us through the rapidly transforming landscape of marketing for non-gaming apps. Here are some of the key takeaways that came from his richly informative session:
Embracing Simplicity and Creativity
Gargiulo's advice rings clear: high-cost, glossy ad campaigns are no longer necessary. Instead, he encourages marketers to embrace simple yet creative content. He aptly says, "You don't have to spend half a million dollars on a big shiny ad… you can do things a lot more creatively."
The Emergence of CTV
Gargiulo reveals a striking statistic: as of 2023, a remarkable 67.8% of the U.S. population is using CTV, a figure which continues to rise. He stresses the importance of including CTV in the marketing mix, saying, "This kind of blew me away… definitely something to keep in your mix."
The Growing Influence of User-Generated Content (UGC)
Highlighting the efficacy of UGC and direct response marketing, Gargiulo discusses an ad shot on a mobile phone that achieved impressive ROI, saying, "That doesn't look like an ad… and it works like crazy," which supports his belief in the power of authenticity in advertising.
Changes in Attribution
With privacy measures reshaping attribution in marketing, Gargiulo encourages a multifaceted approach to measuring campaign success. In his words, "Attribution… it's changed a lot… there just is not deterministic user-level data to definitively know… things are getting more probabilistic."
The Power of Creativity in Integrated Marketing
He emphasizes the interconnectivity of marketing channels, with creativity being the vital force in this integrated system. Echoing Colin Powell, Gargiulo declares, "I believe creativity is a force multiplier…this is your growth engine. It is all connected, and creative is at the core."
John Gargiulo's session offered invaluable insights into the changing nature of marketing channels for non-gaming apps. The key message from this session is evident: for marketers to stay ahead, they must be willing to adapt, innovate, and seek fresh ways to engage their audience.
3. Mobile Splash – an event that went swimmingly
The Mobile Splash Party 2023 – an unforgettable rendezvous co-hosted by Adjust, AppLovin, and Iterable, held at the stunning Splash Pool at MGM Pool Complex during MAU Vegas 2023, has been one of the standout events of the year! On May 24th, as the sun began its descent, painting the sky in deep orange and purple hues, the stage was set for an elegant soiree under the Las Vegas skyline.
The evening commenced at 7 pm with 350 guests congregating around the pristine, glimmering waters of the pool. The outdoor setting proved perfect, with the temperatures hovering in the low 80s. One could argue it was Mother Nature herself approving our choice of venue, rewarding us with the ideal weather to go along with the mood of the evening.
A symphony of sounds provided by a local live DJ filled the air, adding to the ambiance and setting the stage for an enchanting evening ahead. The beats were unrelenting, and the energy was infectious, creating an atmosphere of excitement and camaraderie among the attendees.
As the sun set, event lights came alive, casting a beautiful glow across the pool complex. This not only enhanced the beauty of the setting but also elevated the mood of the party, creating an elegant and welcoming atmosphere.
The gastronomical journey was delightful, with the availability of mouthwatering hors d'oeuvres. Mobile Splash offered a lavish spread of culinary delights, each more enticing than the last. The star of the show was the Sparkling Sorbet Station, a haven for those with a sweet tooth and an experience that left the guests raving about the party's attention to detail.
Signature cocktails were also flowing, adding an extra splash of excitement to the event. Whether you were a connoisseur of classics or an adventurous soul looking to try new mixes, the bar had something for everyone.
Of course, the event's purpose extended beyond the pleasures of good food, drink, and music. Mobile Splash 2023 served as an exciting networking opportunity. Gathering professionals from diverse backgrounds provided an excellent platform for sharing ideas and fostering new collaborations.
In essence, the Mobile Splash Party 2023, with its elegant blend of fun, networking, and a fantastic setting, truly embodied the spirit of MAU Vegas 2023. AppLovin, Adjust, and Iterable took the pool party to a new level, ensuring every guest left with a smile and a handful of new connections.
See you next year at MAU 2024!
With MAU Vegas 2023 having been such an educational and fun conference, you can bet AppLovin will return to MAU next year, where we'll all be seeing just how much the app industry has evolved since this incredible and insightful event. Until then, we encourage you to explore more about AppLovin, its solutions driving monetization and user acquisition for your app business, and the informative content you will find everywhere on our site.