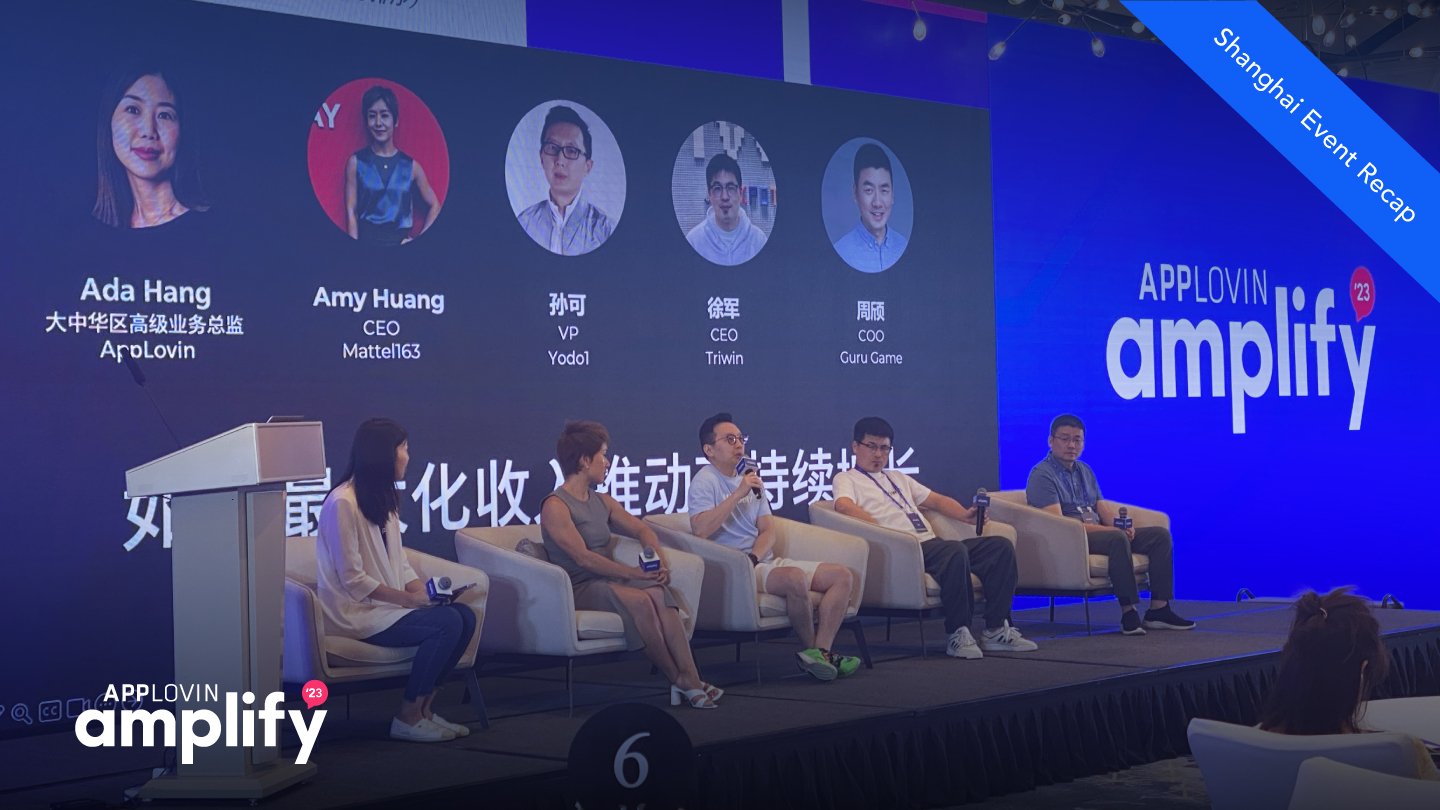 Events
Amplify Shanghai 2023 and the Future of Mobile Marketing
Another AppLovin Amplify event recently took center stage in Shanghai, bringing together industry experts from China and surrounding regions. Designed for global developers, this event offered an exclusive look into the latest trends shaping the mobile industry worldwide, focusing on empowering Chinese developers and mobile marketing experts.
Here's what the full day looked like for attendees and some insights gleaned from the panels hosted in Shanghai.
An eventful, insightful day
A warm welcome from Daniel Tchernahovsky and global market trends with Ada Hang
Daniel Tchernahovsky, AppLovin's Vice President of Global Business Development, kicked things off. Daniel, who has been keenly observing the Chinese market, expressed his enthusiasm for collaborating with Chinese partners. He noted the challenges and changes the mobile marketing space has been through, assuring that AppLovin's tech upgrades are already boosting advertising efficacy for all.
Ada Hang, who leads Business Development for AppLovin's Greater China region, delved into the company's journey and the pulse of the global market. Ada spotlighted the ascending eCPM trend this year and urged developers to diversify their focus across all tiers to truly leverage AppDiscovery's AI advancements. She also introduced the powerful features of the MAX platform, underscoring how AppLovin's 360-degree growth experience can significantly increase ARPDAU and ad revenue.
Panel Discussion: The Road to Maximized Revenue
Industry leaders like Amy Huang of Mattel163, Sun Ke from Yodo1, Xu Jun from Triwin, and Guru Games' Zhou Qi shared their collaboration experiences with AppLovin and the MAX platform. Across the board, the platform received high praise for its data capabilities, iteration speed, and user segmentation, leading to efficient ad monetization and delivery.
Each panelist had unique insights on various aspects of mobile marketing, including monetization and user acquisition strategies. The overarching theme? Data-driven strategies coupled with iterative testing and optimization are key to sustainable growth.
AI transformations by Lea Gao and the rise of CTV advertising with Alan Xie
Lea Gao, the head of AppLovin's IAP Growth Team in Greater China, brought attention to the transformative role of AI in consumption growth and scalability. She provided a playbook for harnessing the upgraded AI system effectively, outlining strategies from maintaining a stable user base to precise targeting, all with an eye toward cost-saving and quicker learning periods.
Next, Alan Xie, Senior Partner Manager (Non-Gaming) in greater China, emphasized the untapped potential in CTV (Connected TV) advertising. With case studies in hand, he discussed how multi-device penetration and technology integration could accelerate CTV business, positioning it as an innovative path in advertising teeming with future prospects.
A candid chat with GOAT Games and creativity in advertising by Jaden Cheng
In a conversation brimming with insights, AppLovin VP of Global Business Development Daniel Tchernahovsky and Alexander Cherpak, Director of User Growth at GOAT Games, discussed everything from market trends and challenges in user acquisition to the nuances of CPI and LTV. Alexander shared how GOAT Games has tackled challenges such as iOS changes, highlighting long-term growth and profit maximization strategies.
Jaden Cheng from SparkLabs emphasized the importance of creativity in ad material production. He offered a three-pronged approach to tackle challenges in the industry, from understanding the market context to efficient testing and, finally, the promise of generative AI in augmenting human creativity.
Trust and Growth: The APUS-AppLovin Saga
Alan Xie returned to the stage with APUS VP Luo Juan to recount their collaborative journey, which began in 2014. Luo Juan emphasized the pivotal role trust and collaboration have played in their shared success, expressing the intent for an even deeper partnership focusing on IAA and IAP monetization strategies.
A fun day of mobile marketing insights and connections
Amplify Shanghai was a melting pot of ideas, innovations, and strategies geared toward shaping the future of the mobile marketing industry. AppLovin continues to pave the way for transformative change through its robust platform and collaborative ethos, enabling businesses to grow unparalleled in an ever-competitive market.