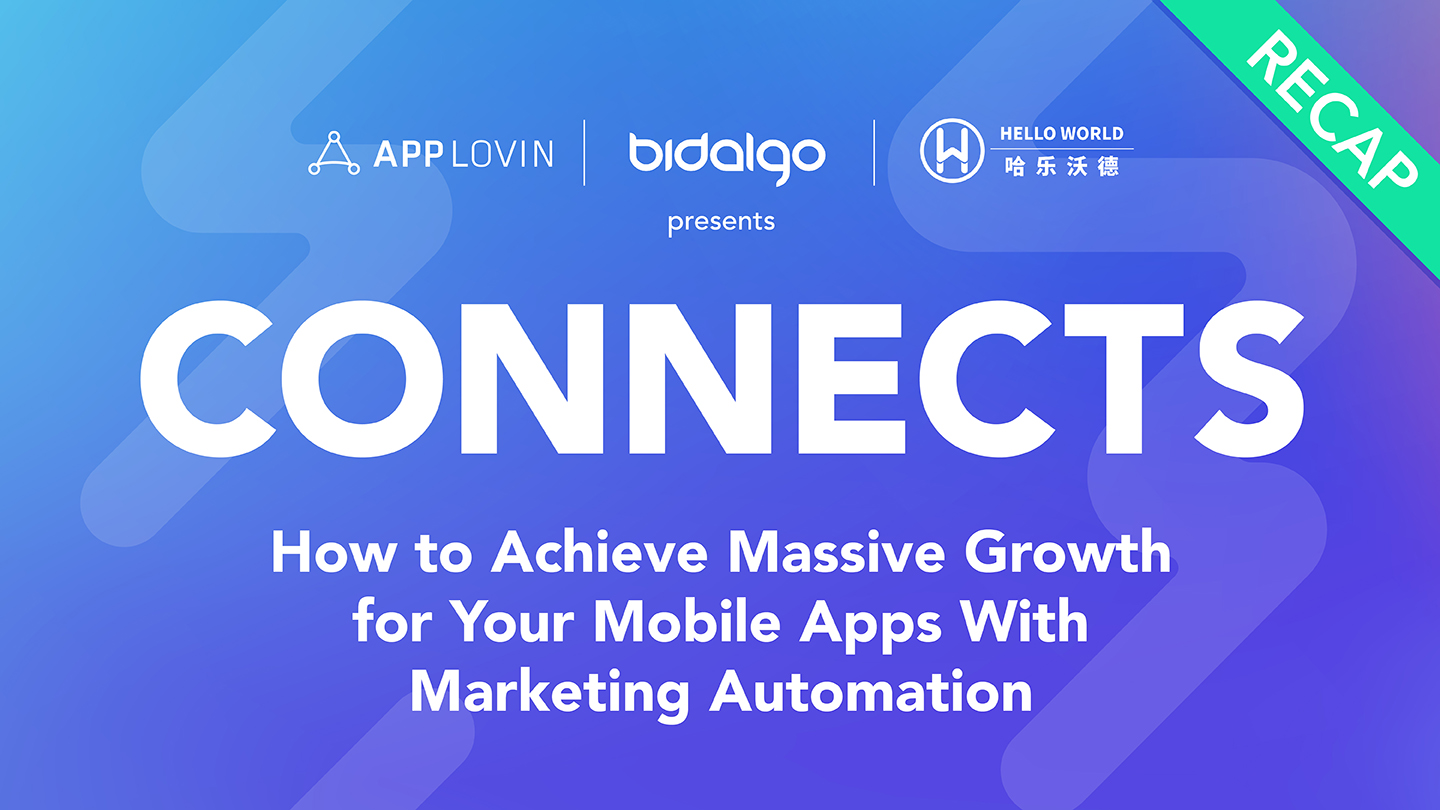 Events
Why You Need Marketing Automation to Grow Your Apps
User acquisition and ad monetization are critical to the growth of mobile apps. Automated UA tools make campaign management much easier and smarter by automatically optimizing campaigns based on your return on ad spend (ROAS) goals.
For growing monetization, in-app bidding is a solid way to help you save time and maximize revenue by automating the process and boosting average revenue per daily user (ARPDAU). 
To give more context around scaling your apps, including using automation to expand globally, AppLovin shared insights at a China Digital Connects event with Bidalgo, a mobile app marketing automation platform, and Chinese tech company, Hello World.
The panel included: 
Ada Hang, Director of Business Development at AppLovin
Fable Yu, Head of Monetization at Hello World
Arvin Li, Product Solution Specialist at Bidalgo
The expert discussion focused on trends, insights, and best practices in how to leverage the right automation tools for UA and an in-app-based bidding solution, MAX, to elevate and optimize campaigns to scale quickly and efficiently. 
Latest trends on monetization and UA
In order to achieve consistent growth and success, always be prepared. A strong strategy comes from a combination of understanding the latest trends, practices, and changes in the industry as well as taking small steps to test various concepts. 
The pandemic likely had an effect on some of the growth in consumer spending and time spent using apps. Data for 2020 shows: 
App downloads increased by 7 percent annually
App store spend and daily time spent per user increased by 20 percent
Mobile ad spend increased by 26 percent
This rapid acceleration means a shift in the market as well—the market is becoming more competitive. The impact from this, plus iOS 14.5 changes mean teams need to understand their return on investment (ROI) more accurately and changes in user behavior. 
But this growth also brings new challenges to the industry, such as higher requirements for UA and monetization in order to continue to further revenue and scale.
Growing globally with AppLovin
Finding the right users for your app is important, and through MAX, you can take advantage of the latest suite of testing tools to launch your apps faster. Through data, MAX helps boost your LTV so you can achieve a positive UA and monetization cycle while having a goal of large-scale growth, including global expansion. 
Ada, AppLovin's Director of Business Development, explained, "Developers who use MAX can view a user's LTV as it relates to the performance of the app in different countries. This helps determine if and when to scale further." 
For apps that rely on monetization through mostly in-app purchases, analyze your cost per install, or CPI. Then, based on this performance, set a ROAS target that makes sense with your strategy and campaign. 
The need for automated marketing tools
Creatives are also an important part of UA, and when poor-performing creatives take up a large portion of the budget, it's a problem. Also, since high-quality creatives are typically reused on multiple advertising platforms, it becomes difficult to detect how the ads are declining at the campaign level. 
Arvin, Bidalgo's Product Solution Specialist, suggested, "Relying on the help of third-party platforms and their automation tools definitely help and is a best practice. With automation, it's easy to reach the industry average or even higher." 
Learn more about AppLovin's software solutions or get started with MAX.