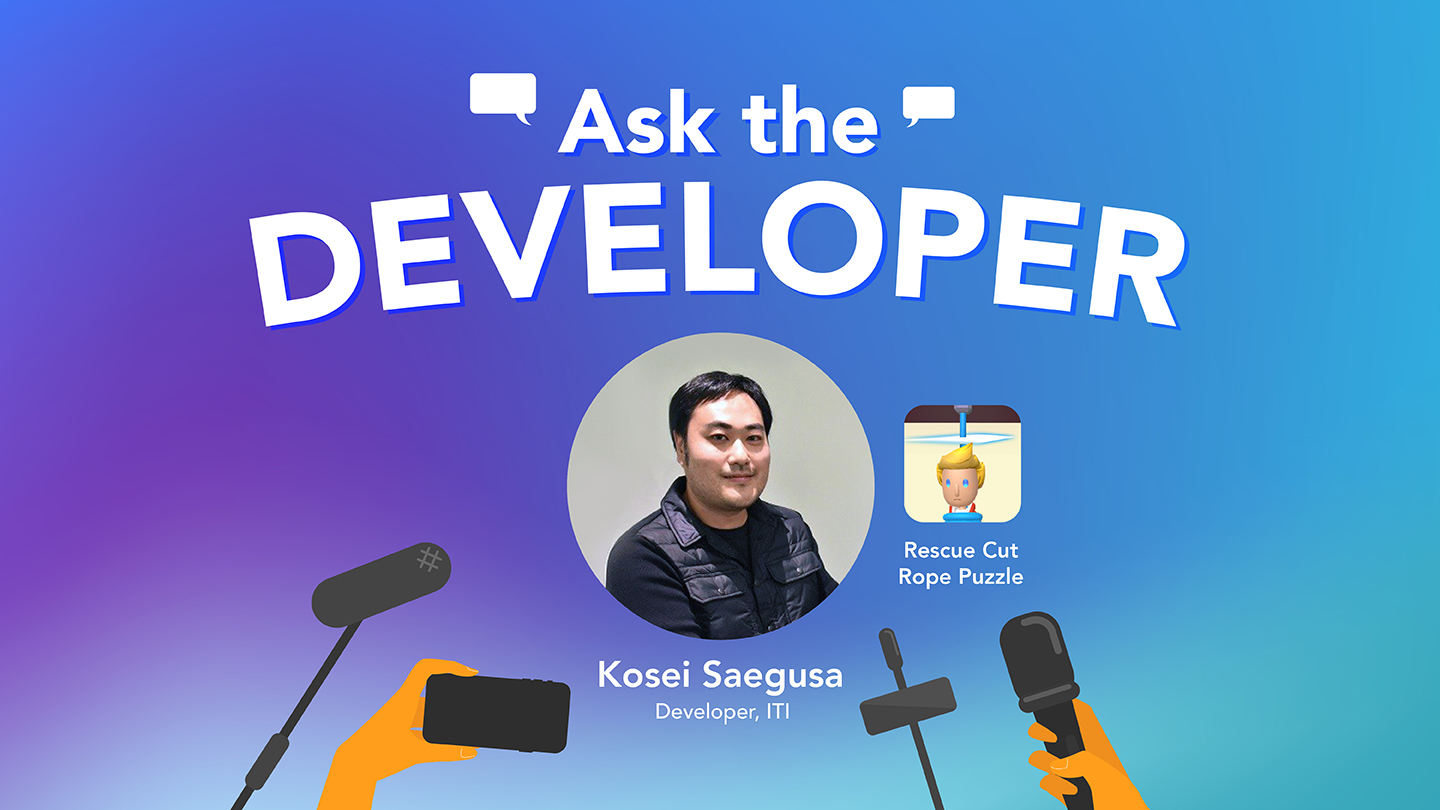 Developers
Ask the Developer: "Speed is the key to winning"– ITI
In our Ask the Developer series, we interview developers for insight into their strategies and best practices. In this installment, we spoke with Japanese game developer ITI, about their journey to reaching #1 in the charts with their game Rescue Cut.
How did ITI get into the hypercasual game business?
We started specializing in hyper-casual games about a year ago. Before that, we made casual games and other apps for the Japanese market. We reached a point where we felt our growth was limited if we only targeted the Japanese market, and began to see a rise in hyper-casual games for the world. We decided to give this mobile gaming genre a try, in hopes that ITI could market games outside of Japan.
What led you to making Rescue Cut specifically?
To put it simply, in the hyper-casual game world, you create a lot of different games at the start, and then see which titles are successful. Instead of taking a lot of time to think of a really special idea — our process was more about gathering a large quantity of ideas and then testing them all — filtering the good ideas from the bad.
At the time we developed Rescue Cut, we saw games that used ropes or human characters were very popular among gamers. We thought of combining these two elements. In Rescue Cut, players have to cut ropes in order to save a human who is stuck.
At the time, we were making about 20 games per month and testing them out. The test promotion for Rescue Cut did very well, so we continued with its development.
Twenty apps a month is a lot!
Yes, but speed is key. App creation for us can take three days or two weeks. Our success came from rapidly testing many games to see which could actually be a hit.
The hyper-casual market is competitive, and it's likely other developers around the world may have similar ideas to yours. So it's crucial that a hyper-casual game is developed and put out in the market as soon as possible. If the development process takes three or four months, trends may have already changed.
In the Japanese business world, perfection is valued. People tend to spend a lot of time and energy developing one single product in order to achieve perfection. However, for hyper-casual games, speed is the key to winning. I wouldn't say that the quickest person wins, but I feel that achieving profitability quickly is important. Once your game achieves some success, you can always improve it afterwards. In the case of Rescue Cut, we were able to achieve profitability in three days with AppLovin's support.
How do you decide which games to continue with, and which ones to scrap?
After doing a test promotion for a small amount of money in the US and other large markets, we'll judge if we should continue with its development or not based on its results. We worked with AppLovin to take a deep dive into the data.
Of the 20 or so games made each month, we aren't concerned that all of them succeed. If even one is successful, that's good enough.
Rescue Cut primarily utilizes in-app ads for monetization. Is there a trick to the timing of the advertisements?
Finding the right balance is critical: too few ads won't make the game any money, but too many ads may hinder a user's experience — decreasing user retention.
In the case of Rescue Cut, we actually saw a very interesting phenomenon. We first released the game with 100 stages and no ads whatsoever. It only takes five to ten seconds to play a stage in the game, so users were able to play the game in a very short amount of time — sometimes even in a single session. Therefore user retention for days two and three were close to zero, because most players had already finished all stages! (laughs)
By putting in ads, we saw that users took breaks in between play times. Each session was shorter, and users came back the next day to continue playing — increasing user retention. Also, it would be impossible for us to come up with new stages to keep up with the pace of users whizzing through them, so our decision to display ads in our games was a win-win situation.
Any final words for our readers?
I like to think of hypercasual games as a lottery that you can win if you have the right knowledge. Though you need to evaluate various data which can be laborious at times, it's a necessary step if you want to win big. I recommend developers give it a try if they are interested. And lastly, please check out our game Rescue Cut — we hope you enjoy it!