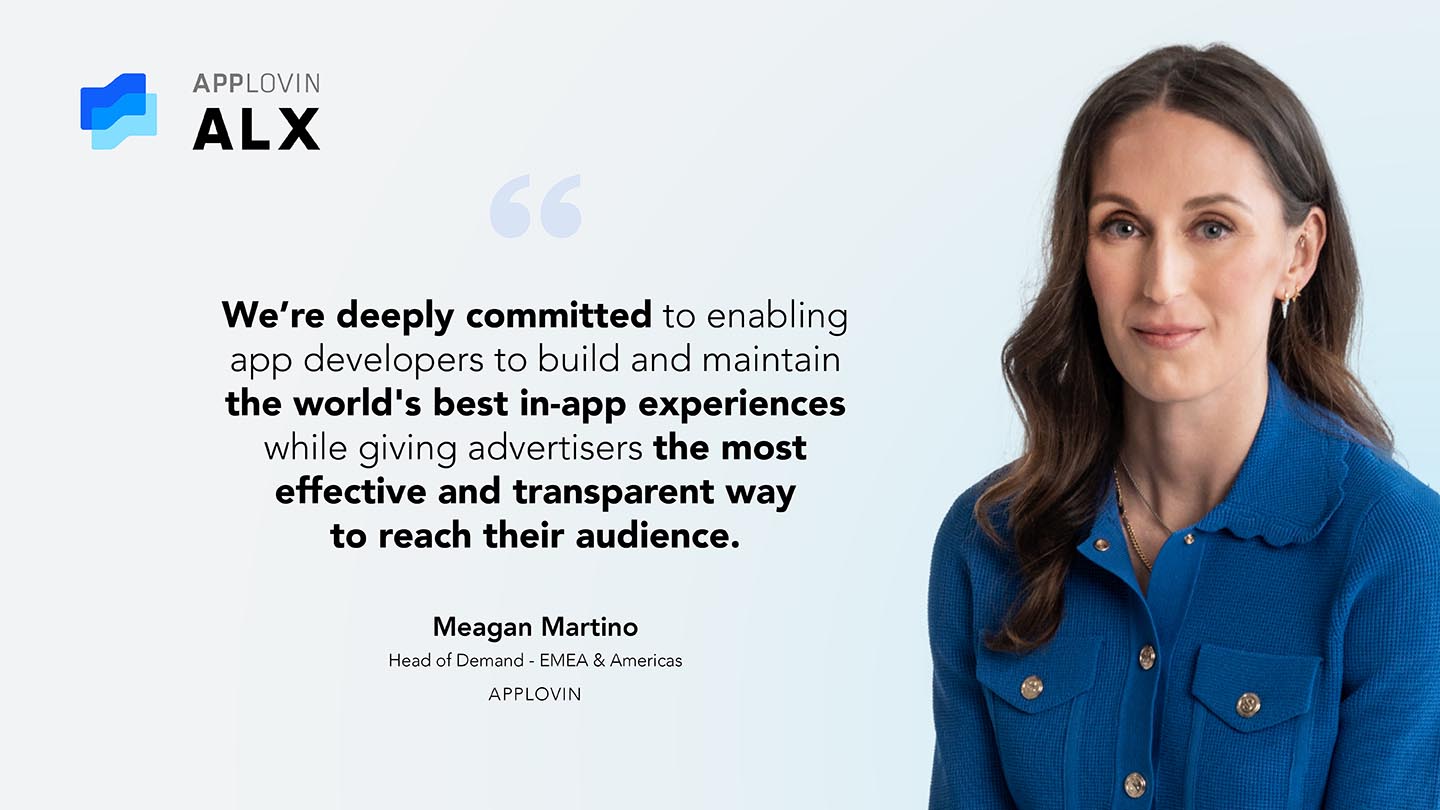 Advertisers, Developers
AppLovin Exchange: Increase Reach, Scale, and Growth — Part 2
In this Q&A series, Meagan Martino, Head of Demand for the Applovin Exchange (ALX) across EMEA & Americas, and Genelle Hung, Head of Demand for ALX in the APAC region, talk about how agencies can use ALX to power a mobile-first strategy to reach as many people as possible, spend efficiently, and be able to measure the results of their spending.
Meagan and Genelle joined AppLovin as part of the MoPub acquisition, where they worked with DSPs, agencies, and advertisers to help them understand how to navigate and capitalize on the value of the mobile ecosystem.
In Part 1 of this series, Meagan and Genelle described what ALX is, why it's the best option for agencies, and the advantages of direct access and how it works.
In Part 2 of this series, Meagan and Genelle talk about measuring campaign effectiveness, ad formats supported by the AppLovin Exchange, ALX inventory, and how ALX combats fraud. 
Does AppLovin Exchange help me measure campaign effectiveness?
Meagan: We support OM SDK to align with programmatic standards for viewability measurement. We also ensure 100% coverage against app-ads.txt and support sellers.json to ensure you get the signals you need to prove transparency.
What ad formats does ALX support?
Meagan: ALX supports all major ad formats in mobile including in-app display, video, interstitial, native, and rewarded video. In-app mobile video offers advertisers an opportunity to extend their video campaigns off of desktop and CTV to engaged audiences with the same high-impact branded content. These ads stream seamlessly at natural pauses during app usage so the user experience isn't interrupted mid-stream or diverted through out-stream (video that appears as someone scrolls through content).
What kind of inventory do you have? I hear it's mostly gaming –– do brands want that, and how should they leverage gaming inventory?
Genelle: You're right –– AppLovin has historically been known for strong gaming inventory, which means we're heavily skewed towards both interstitial and rewarded video, as these ad placements sit perfectly between levels and where there is a clear 'break' in the user experience.
The MoPub acquisition also brings a great deal of non-gaming inventory (social, entertainment, etc.) and additional display formats like banners and native, but let's talk about gaming for a moment. The advertising world is shifting once again, and the pandemic made brands understand that mobile gaming is where their target audiences are. Major brands like Unilever, Coca-Cola, and Ford started to invest heavily in mobile gaming, and many of the early-adopting brands look at mobile gaming as the new social media in terms of the opportunity to engage with consumers at scale.
Gaming offers an unmatched opportunity for brands and agencies to connect with their customers, extending their TV and YouTube reach and scale. Understanding that today nearly everyone is a 'gamer', brands and agencies looking to diversify their ad budgets and branch out to new channels to launch their ad campaigns are realizing that mobile games attract players from nearly all demographics, and the opportunity to reach that audience is perhaps bigger than ever before.
One of the biggest takeaways to consider is the win/win situation for both advertisers and consumers in this scenario. When consumers are playing a game, they are totally engaged and immersed in a gaming experience. App developers are fighting hard to gain new users, and user acquisition is a highly competitive and expensive 'game' for brands. This means that app developers are careful about how they integrate the ad experience in their game and, in many cases, they're more thoughtful about the ad placement than a traditional desktop publisher. All of this means that a brand creative in a gaming environment is likely to have high impact and brand uplift, and has the added benefit of a positive experience for the user.
What tools and mechanisms does AppLovin Exchange provide to help fight fraud and protect my brand?
Meagan: Applovin recently announced our partnership with HUMAN Security, Inc. (formerly White Ops) to bring their advanced pre and post-bid fraud solutions to our exchange.