Events
Building lasting systems and companies: An evening with AppLovin and Girl Geek X
A few weeks ago, AppLovin hosted an event at its San Francisco office with Girl Geek X, an organization that gives women the opportunity to speak about their expertise in the field of tech. Girl Geek X began over a decade ago and has hosted nearly 200 events at over 150 companies. In addition to the organization's goal of giving women in tech a platform, the organization aims to help qualified candidates find jobs.
Dinner and drinks were served to guests before the talks, allowing everyone time to mingle and share their unique experiences working in the tech industry before the panels began. The night's talks were focused around scaling sustainably, and they covered how to build a team that grows with your business, as well as how to build systems that stand the test of time. When your company is growing fast, having a team and tools that can adapt is crucial.
Invest in what matters: A team that scales with your business
Our first panel covered the importance of investing in a team that scales with your business. The panel featured two AppLovin team members: Helen Wu, Director of Growth Partnerships and Alice Guillaume, Marketing Director. Moderating the panel was Katie Jansen, AppLovin's CMO. The talk began with what drew Wu and Guillaume to the company.
"I remember speaking with my interviewers and being awe of how smart and passionate they were," says Wu. "Given where I knew the mobile industry was headed, I really believed in our CEO Adam's business vision of being a growth engine for app developers, and I knew I would have endless opportunities to learn and grow with the business."
"I wanted to work in a place where I could make an impact and bring ideas and promote change," says Guillaume. "Taking the risk of interviewing at AppLovin was one of the best decisions I've made. Leadership was invested in getting me where I needed to be."
Today, Wu and Guillaume are leaders at AppLovin themselves, and they have built incredibly strong teams. Guillaume says that when looking for a team, "The resumé is important, but for me, it's really the psychological aspect of who you are. One thing I look for is your ability to learn, which is one of the things that has driven [AppLovin's] success," says Guillaume. "The second thing I look for is grit and passion."
But to build a team that can withstand constant change, you need to have empathy and mentor them, says Guillaume. It's important to build a relationship with everyone in your team, even if that means talking about non-work related topics during a one-on-one meeting. Keeping meetings casual like going out for coffee or for a walk is one way to build that relationship.
"One unique thing about AppLovin is that we actually have very few meetings," says Jansen. "We're not in back-to-back meetings all day, so that gives us time to connect with individuals."
Embracing change is how you build lasting systems
The second panel of the night featured several of AppLovin's female engineers. Principal Software Engineer Anusha Ramesh, Principal Software Engineer Sonal Gupta, Network Engineer Swetha Anbarasan, and Software Engineer Laura Pfister gathered to talk about embracing change and how that builds lasting systems.
That mindset came into play in the early days of AppLovin with SQL queries. When the company began, SQL queries worked fine with the amount of data we had in our database, but as the company scaled, the queries were beginning to take over an hour to complete. "We took that entire system, redesigned it, and implemented a custom counting framework that could complete a query in 10 minutes," says Ramesh. The new system worked for a while, but the engineering team eventually hit another wall as the database grew exponentially. The team scrapped the custom framework again and built another one from the ground up.
Another challenge the team faced as the company scaled was performance for ad delivery. As business grew, so did demands for serving ads, and at one point, our systems were not meeting the minimum performance numbers we wanted. However, the engineering team had put alerting and monitoring systems in place that helped them find out the problem and how to fix it, says Pfister. The team quickly identified the performance bottleneck and increased performance three-fold in just a few weeks.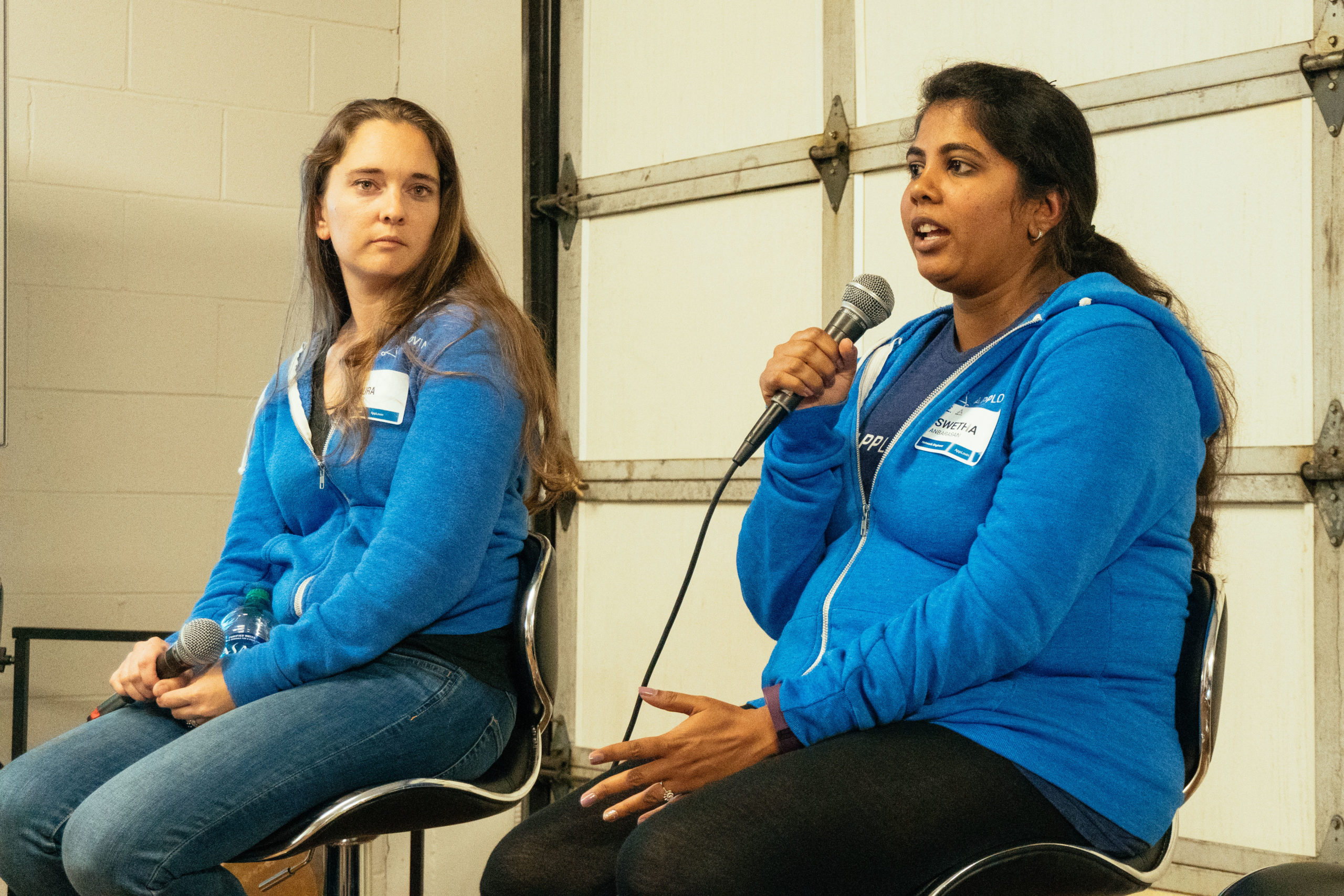 "[These monitoring tools] are one of the big things that tell us when a system is coming to a limit," says Ramesh. Once a problem is identified, the team gathers to decide the severity of the problem and how many resources to devote to it. "One thing we do a lot in engineering is to do something to minimize [a problem] in the short term, and then decide a long-term solution," Ramesh continued.
When asked how AppLovin's engineering teams avoided getting in each other's way, Ramesh responded, "We've put a code review process in place and structure so we don't actually step on each other's toes," she continues. Gupta added to that, saying, "We're still a very small team but there's still a lot of communication. With an open office culture, we just go to the person's desk and it doesn't have to be an elaborate meeting."
"Communication is key, whether it's talking to someone or leveraging Slack," says Jansen. "The communication processes we have in place help us to communicate better as cross-functional teams."
With the panels wrapped up, attendees were treated to dessert, drinks, and more time to network with each other. The event was a great success, and we'd like to thank Girl Geek X for partnering with us. Be sure to follow AppLovin on Facebook, Twitter, and LinkedIn to see our upcoming events.
You can watch the panels in their entirety below.