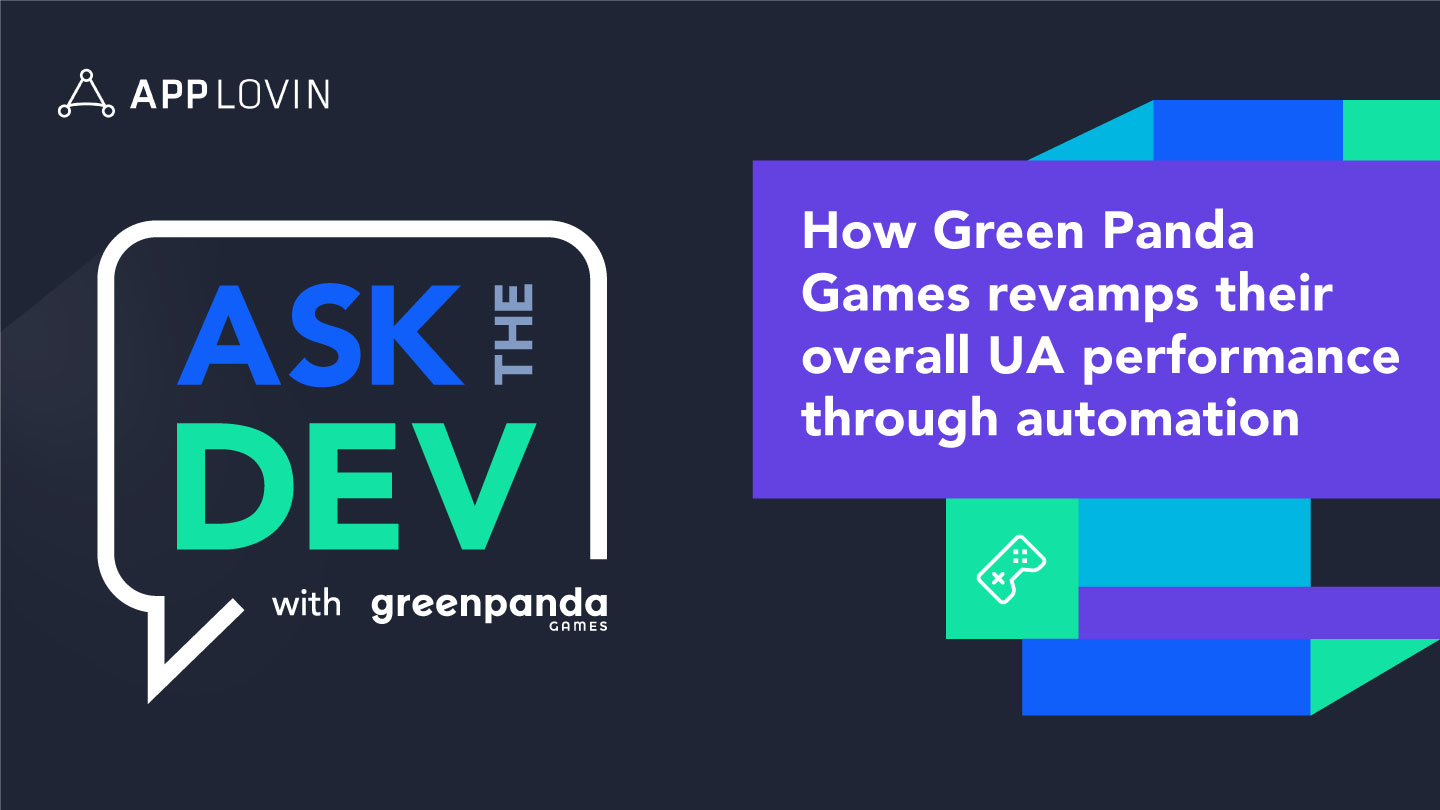 Developers
How Green Panda Games Perfects Growth Through Automation with AppLovin
Did you catch the latest Ask The Dev? We featured Green Panda Games, the creator of chart-topping hyper-casual games such as Mining Inc. and Idle Human. With 12 million monthly active users the studio knows what it takes to make successful games in today's market. 
Green Panda, based in France and Ukraine, historically created mostly idle and hyper-casual games. The team worked closely with AppLovin for about four years to help grow and test the marketability of their games. 
Cyril Caël, AppLovin's Director, Business Development, spoke with Green Panda Games' Senior UA Manager, Pierre Nicolas, who shared his experience and knowledge for scaling games with an effective UA plan. Specifically, he talked about how to measure LTV-focused (lifetime value) metrics such as return on ad spend (ROAS), which is critical for game developers to understand so they can allocate and spend their budgets efficiently. 
Pierre, who leverages his background in marketing and data, uses MAX and AppDiscovery to find high-quality users while being able to achieve ROAS quickly.  
Here's what Pierre had to say about UA and the role he plays in monetizing for continued future growth and stability. Also, don't miss his rapid-fire answers at the bottom!
Making hyper-casual games with 12 million of daily active users
When Green Panda first entered the hyper-casual space, the market was already on an upward trajectory. The team researched what kind of business model made the most sense for them, and after a lot of testing, they felt very enthusiastic about building hyper-casual idle games. 
Pierre explained, "This genre is really cool because you can feel your progress at each session. Our team still gets still super excited about coming up with new ideas for hyper-casual and casual idle games."
Marketability and testing games at Green Panda
In order to reach their millions of users, Pierre explained that the team uses all of the classic metrics, such as CTR [click through rate], CVR [conversion rate], CPI [cost per install], and IPM [intalls per mille], to name a few. Then they take a look at a second round of tests. Pierre added, "We test on one ad network first, then we expand to others to ensure we have potential for success, traffic, and good learnings."
As with all testing, it's important to have a goal in mind. "After looking at the metrics available on the UA campaigns, we then look at LTV and ARPDAU [average revenue per daily active user]."
How Green Panda uses AppLovin to improve efficiency and revenue
Using AppLovin allows you to utilize attribution at a user-level and run UA at an audience level, which helps trigger more growth and achieve your KPI and goals. 
Pierre smiled, "We are really lucky to work with such great people at AppLovin. Initially, we did CPI campaigns and had good learnings from the beginning. Now, we're using AppDiscovery, which adds more value for bidding. Thanks to those optimizations, we can have modifications at the source-level."
Pierre, who once had to set up campaigns manually, appreciates how easy it is to automate campaigns with MAX and AppDiscovery. Before using MAX or AppDiscovery, his recalls the challenges of not being able to reach the right users. 
He used this example, saying, "You will set your CPI limits at, say, 50 cents, which means that  unfortunately, you will never reach users who are at 55 cents and have maybe three times better LTV. On the other hand, if you can create a ROAS campaign with AppLovin, you have the ability to reach both users at 50 cents or one dollar—which means you're triggering the right users for the campaign and your game."
Because the Green Panda UA team no longer needs to set up time-consuming manual campaign refreshes several times a week, Pierre said, "The extra time can be cleverly reinvested in more strategic tasks such as creative A/B tests, trying new emerging ad tech networks, or testing new tools."
When it comes to boosting ARPDAU, Pierre offers up one very useful piece of advice. "Never stop testing! Moreover, as the market changes quickly, you have to be able to pivot very fast."
Rapid Fire with Pierre
We asked Pierre a series of fun, rapid-fire questions to get to know his interests outside of work. 
What studios or games do you follow closely?
Personally, I'm a huge fan of Supercell and Clash Royale! Also, I'm really impressed with our partner studio Funcell with whom we do 9 Months and Idle Human.
What would you be doing if you never had to worry about money again? 
Travel the world to discover new landscapes and cultures. The Lofoten Islands [in Norway] is my favorite spot so far!
What's your favorite beverage?
Apricot juice, but I never say no to a cold beer.
Name something on your bucket list.
A road trip in the western part of America through the Grand Canyon, Yosemite, and Death Valley. 
Tell us something unique about you.
As a child, the first time I shook hands with someone was the French president. But being left-handed, I did it with the wrong hand! He was not expecting it and it made him laugh a lot.
For more on user acquisition and growing your apps, check out our entire Ask The Developer series. Or learn more about what AppLovin can do for your business.